The Full List of Children of Joshua Pettit (b1734) and Rachel Pettit of Spartanburg, SC Based on the Best Supporting Documentation Available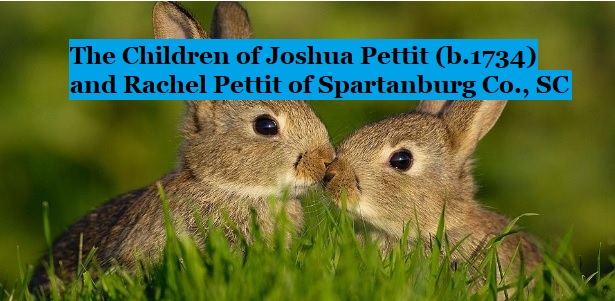 In this writing we will attempt to list all the known children of Joshua and Rachel Pettit and their birth date and birth place.  The aim is to clearly show what is established by supporting documentation, what is family tradition, and what is not established at all.  This document will be updated periodically when new information  is discovered. (Change log is at the end of the document.)  Documentation will not be formally notated at this time but feel free to post a comment below if you want to know the source of anything mentioned.  Please note that it is not my intention to discredit or discount something simply because it is not supported.  However, it is important for genealogy purposes to determine what is theory and what is fact.  Areas that are weak in documentation should only invite more research.
Father: Joshua Pettit (b. 1734)
BIRTH DATE: 1734. Old Joshua's birth date of 1734 has been assumed but has no known supporting documentation.  Evidence suggest that researchers in the early part of the 20th century assigned a year range of 1735-1740 to Joshua. Sometime around the 1960's, 1734 became widely used for some unknown reason.  Since virtually everyone  today shows his birth date as 1734, I use it as a way to identify him but don't necessarily think it is or isn't correct.
BIRTHPLACE: NJ? It has been assumed that Joshua Pettit was born in various locations in NJ around Elizabeth or Essex Co.  This is based probably on the fact that his son Henry was born in NJ, and that a Joshua Pettit can be found in the records of Essex Co., NJ.
Henry Pettit Sr. (b. 1763)
BIRTH DATE: January 22, 1763.  Henry's birthday is established by several sources, most of which can be found in his Revolutionary War pension application.   He testified "From the Records of my father I was born in the state of New Jersey on the Schoolkill in the year 1763."  Also in this record we find the testimony of Henry Sr's son John who states:
"…by a record in the handwriting of his father the said Henry also in his possession in his family Bible he finds his father was born January 22, 1763 and his mother the said Ann was born February 1763"
This date also fits with all available census data on him.
BIRTHPLACE: New Jersey, "Schoolkill".  A New Jersey birth has a good source: Henry Pettit  himself.  He told the court this was where he was born.  For years researchers took the "Schookill" statement to mean "the Schuylkill River in NJ".  The obvious problem with this is the Schuylkill River flows through Pennsylvania and empties into the Delaware on the side opposite  of NJ and never comes close to NJ and never has.  The word "river" is  not actually found in his statement however. Other options researchers have considered are "School Hill", "Short Hill", "Schuyl Hill", "Schooly Hill", "Stoney Hill" and "Schuyl's Mountain".  All these locations exist in and around Essex Co., NJ.
Henry's son John also reported on the 1880 GA census that his father Henry was born in NJ.  Henry is the only child of Joshua that has been proven to have been born in NJ.
Joshua  Pettit Jr. (b. ~1765)
BIRTH DATE:  Before August 6, 1765.  Neither Joshua Pettit Sr's Bible record nor Henry Pettit's Sr.'s list of Joshua's children visibly show Henry, Hannah or Joshua Jr.  This is likely due to deterioration of the original documents as there is ample space on the page and some faint writing can be seen. Consequently we do not have a birth date for Joshua Jr.  At the time Henry's son John submitted these records at least some of it was still visible.
The only Pettits in the 1790 Spartanburg County census who are heads of households are Henry Sr. and Joshua Jr.  It is assumed Joshua Jr. is the first younger brother of Henry Pettit because Henry was the son who had to volunteer in place of his father in the Revolutionary War while his father was building Wofford's Fort.  Henry also took charge of the family farm in the absence of his father.
Census data on Joshua Pettit Jr. gives us the following clues to his birth date:  1790: born before 1774;  1800: born between 1774 and 1755; 1810: born before 1765; 1820: born before 1775.
The enumeration day of the 1810 census was oficially August 6, 1810.  For Joshua Jr. to have been 45 or older as the census indicates on August 6, 1810, he would have had to have been born before August 6, 1765.
The 1800 census narrows the window on the early end to 1755.  Assuming the census date is correct, Joshua Pettit was therefore born between 1755 and August 6, 1765.
BIRTH PLACE: NJ, SC, or VA?  The only known record of Joshua Jr's birth place is the 1880 Comanche Co, TX Census in which his son Henry (b1799) was enumerated.  It records that his parents were born in SC.  Standard warning for relying solely on this type of census data applies.
Hannah Pettit (b. ~1765)
BIRTH DATE: 1765.  Hannah's birth date is based upon Hembree family tradition.  A Hembree Bible record that is now missing contained information about Hannah Pettit and her marriage to Joel Hembree. It is not entirely clear if this date was included in the record or just  her name.  On January 23, 1995, Eula Hembree Nichols wrote another researcher, "The only 'proof' is the entry in Benjamin's [Hembree] Bible, and I have never seen the Bible, only copies of a transcript…"  I followed the trail of this Bible to its last known location at the McClung Library in Knoxville, TN.  The library has no record of this Bible transcript. The librarian in charge of the historical collection who has been there since the 1980's had no knowledge of it.  (If any Hembree researcher has seen this I would love to speak with you.) Mrs. Nichols believed in a 1765 birth date though other Hembree researchers have suggested 1758.  As it stands right now we don't have any evidence for any date nor can it be proven with absolute certainty that Hannah married Joel Hembree.
BIRTHPLACE:  NJ,  SC, or VA? Many trees show NJ or SC but there is no known record which even hints at Hannah Pettit's birth location.  I am including VA as a possibility as well.
Mary Pettit (b. 1767)
BIRTH DATE: May 20, 1767.  This date is found in Joshua Pettit Sr's Bible and Henry Pettit Sr's Bible records.
BIRTHPLACE:  NJ,  SC, or VA?  Most family trees show Mary born in NJ or SC.  This is likely an assumption because no known record corroborates this.  Another fair assumption would be VA.  Joshua was at the Steenbergen Ordinary in Romney, VA on March 31, 1767, -less than two months before Mary was born.  He was there again in August of the same year after she was born.  However, the possibility does exist that the family was living somewhere else while Joshua Pettit was traveling through this area of  Virginia.
Benjamin Pettit (b.1769)
BIRTH DATE: July 20, 1769.  Benjamin has no less than 3 records which support his exact birth date.  They are: 1) The Bible record of his father Joshua. 2) The Bible record of his brother Henry. 3) His own Bible record. This date also fits with all available census data on him.
BIRTHPLACE: SC?  Many trees show NJ or SC and VA would be a possibility as well.   No records exist that suggest NJ.  Benjamin's youngest son Lecil survived to be enumerated in the 1880 census which usually lists the birthplace of parents.  Unfortunately, Lecil either did not know or did not recall where his father was born.  The data recorded by the census taker in this column for Lecil is a simple dash.
Benjamin's son Hiram also survived to be enumerated in 1880 and thankfully he was able to shed some light on his father's place of birth.  The 1880 Bartow Co, GA census shows a 75 year old Hiram Pettit who was born in SC and who says his father was also born in SC.  Census data in this area is notoriously sketchy but it does appear Hirman was attempting to provide valid data because he also stated his mother (Elizabeth Hindman) was born in Pennsylvania.   This unusual surprise suggest that census taker wasn't just putting "ditto" down the page.
Though it may be quite possible, we must also entertain the idea that Hiram's proffered birthplace of his father may be an error.  After Benjamin was born, his father Joshua purchased land on Deep Spring Run in Hardy Co, VA on October 19, 1769. He can still be found passing through the Steenbergen Ordinary in VA as late as March of 1770, though this doesn't rule out the possibility he lived elsewhere.
John Pettit (b. 1771)
BIRTH DATE: September 2, 1771.  John has been left off most family trees due to most of his children being incorrectly attached to Benjamin.  (More info on John in a future post.)  The Bible record of Henry Pettit Sr., shows that John was born September 2, 1771.  This date also fits with all available census data on him. Some family trees incorrectly assign this birth date to Nathan or Joshua Jr. for reasons unknown.
BIRTHPLACE:  SC? The children of John have not been positively connected to him with supporting documentation but there is extremely strong circumstantial evidence which links him to Daniel, Elijah, Solomon, Nathaniel Henry, Benjamin, and Ruth.  (There are others as well).  On the 1880 census son Daniel and daughter Ruth (Brashears) Pettit list their father's birth place as SC.
Nathan Pettit (b. 1775)
BIRTH DATE:  September 12, 1775.  Nathan Pettit's birth date is found in the Bible record of Henry Pettit Sr.  This date also fits with all available census data on him.
BIRTHPLACE: SC.  The 1850 Hancock Co., IL census shows Nathan Pettit's place of birth as SC.
Abraham Pettit (b. 1776)
BIRTH DATE:  October 29, 1776.  Abraham's birth date is found in the family Bibles of both Joshua Pettit Sr. and Henry Pettit Sr.
BIRTHPLACE:  SC.  In his Revolutionary War pension application Henry Pettit Sr. stated the Pettit family was living on Lawson's Fork  of the Pacolet in July of 1776.
Rachel Pettit (b. 1779)
BIRTH DATE: April 9, 1779.  Rachel's birth date is found in the family Bibles of both Joshua Pettit Sr. and Henry Pettit Sr.
BIRTHPLACE: SC.  Land records and war records indicate the Pettit family was still living in the same area in SC at the time of Rachel's birth.
Other Children
At least one other child belonging to Joshua Pettit probably existed.  A son of Joshua and Hannah Pettit who died on April 15, 177[6?], is recorded in Joshua's Bible.  The son's name is illegible and the identity of Hannah is still a mystery but she may have been a wife who died before he married Rachel.  Other children may have existed from this earlier union as well.
---
Change Log
2021-1-19: Updated Hannah birth date information to include Hembree tradition of 1758.
2021-1-24: Edited for clarity.
2021-8-20: Minor formatting changes to the page.  No edits to information.