Early Black Oklahoma Lawman Charles Pettit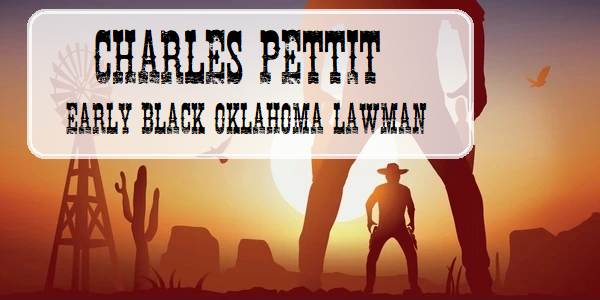 Early Oklahoma Lawman Charles Pettit
Editor's note: Charles Pettit, a black lawman, was an early US Marshal who was posted at Guthrie, Oklahoma Territory and Pawhuska, Indian Territory in what would later become the state of Oklahoma.  He was one of several black deputy marshals who operated in this area in the later part of the 19th century.  Though I doubt he is related to my own family for obvious reasons, he honorably bore the Pettit name and his story is worth telling.  Described in the language of the day as a "colored giant", he must have been quite an impressive man to meet in person. 
This article was originally lacking genealogy information on Charles and I had asked for other researchers to help with that.  I want to thank researchers Jason Pettit from Minnesota and Keaton Littlfield for answering that call and providing some valuable sources which helped me to revise this article to its current state.

---
Charles Pettit Described by Pistol Pete
The follow is an excerpt from the book "Pistol Pete, Veteran of the Old West" which was the autobiography of Frank "Pistol Pete" Eaton.  That is the same man whose likeness and name are the mascot of Oklahoma State University.  On pages 267-268 of his book, Pistol Pete wrote:
We were just leaving the livery barn when I saw Charles Pettit walking up to me.  Charlie was a big Negro Deputy United States Marshal, from Wichita Court.

"Frank," he said, "Ernest Lewis is up at the hotel and I have a warrant for him.  He may have a gang up there.  Come up and help me get him."

We started up to the hotel together.  Lewis was sitting on the porch.  He started like he was going to make a gunplay, but I put my hand on my gun and shook my head at him and he stopped.  He and I had played with guns and he knew I was the best shot.

"Sorry, Mr. Lewis," Pettit said, "but I have a warrant for you and it's a fugitive warrant."

By that he meant that Lewis was paid for if anything went wrong.  He had committed a crime that was punishable by death.  Pettit's orders were to bring him in dead or alive.

"Unbuckle your gun belt carefully and drop your gun," Pettit told him.  Lewis unbuckled his gun and handed the whole outfit to me.  Pettit reached for this handcuffs and just then the whole window burst out on him with shotgun shells.  I covered Lewis and started for the door and at the same time Pettit went in through the window.  Inside the window stood Lewis's wife with a gun i n her hands!  She had shot both barrels of the shotgun at once and blown the whole window clear out onto the porch floor.  Pettit grabbed the gun barrel, then saw it was a woman.

"Madam," he said taking off his hat, "them things get a person hurt.  You should be more careful."

Pettit put his handcuffs on Mrs. Lewis and my handcuffs on Ernest.  He took his prisoners to Guthrie, where he put them in the Federal jail.  They stayed there almost a week, that time, but then broke out again and left the country for good.
---
Additional Notes on Charles Pettit and Bill Doolin by Art T. Burton
The following information on Charles Pettit is an excerpt from an article that was originally published in the Oklahombres Magazine by Art T. Burton entitled "Bill Doolin and the Black Oklahombres."

Lawman Charles Pettit
In Bailey C. Hanes' book Bill Doolin, Outlaw O.T., he mentions an incident that was supposed to have taken place at Ingalls, Oklahoma Territory. Hanes related the story that Marshall E.D. Nix had a physically large African American deputy U.S. marshal on staff named Charles Pettit. Supposedly Pettit was very eager to collect the reward for the capture of Doolin and let it be known he would bring him in. Shortly thereafter, he went to Ingalls and started hanging around the town saloons. According to Hanes, Doolin confronted Pettit in one of the bars, demanded to see the warrant for his arrest then made Pettit eat it and wash it down with a whisky for a chaser. Doolin then supposedly told Pettit to leave town and if he ever came back he would kill him, at which time Pettit mounted up and rode out of town in a hurry. As far as I know there is no documentation that this event between Doolin and Pettit ever happened.

What we do know about Charles Pettit is that Chris Madsen called him a "colored giant who worked the Osage country." Pettit is said to have worked out of the Guthrie office. He was stationed at Pawhuska, Osage Nation, for the Guthrie court. In his autobiography, Frank "Pistol Pete" Eaton claims he assisted Pettit in making an arrest in Pawhuska on one occasion.

This is an interesting article on Pettit from the Oklahoma State Capitol, July 2, 1896: "Pettit, The Terror – One of the Best Posted and Most Daring Deputies in the Territory"

"Charlie Pettit, the colored deputy marshal, the terror of the woods but one of the best known and trusted and good natured men, a man that fears neither man nor devil, is in the city…Charley Pettit is at the same time the most gentle, well disposed fellow in the territory. He is colored, it is true, but a great genius could build a romance on his life that would beat all the "yellow backs" that were ever written. He could be made out to be in fiction – and in truth, too – as the "Black Terror of the Territory."

"Charley Petit is here as posseman of H.H. Callahan, a brave deputy marshal who killed some time ago the famous outlaw, Tom Crook, in the Osage nation. If ever there was a man that deserved a deputy marshal's commission in his own name, it is Charley Pettit. He is as gentle as a lamb and you would think butter would melt in his mouth, but at the same time, he is as courageous as a lion…"

I haven't been able to find out if Pettit ever received a commission under Nix, but it appears he received a prior commission as a deputy U.S. marshal under William Grimes of Oklahoma Territory. Grimes' payroll record for January 1 to June 30, 1893 shows Charles Pettit receiving $340.02 in wages and reimbursements. The following notations were found in territorial newspapers concerning Pettit's police work:

Guthrie Leader, June 14, 1894: "Deputy Charlie Pettit (sic), down from Perry with prisoners, most selling whisky."

State Capitol, March 6, 1895: "Deputy Chas. Petit came in last month from the Osage country with W.S. Kennedy, an Osage whisky peddler. He was given lodging at the federal jail."

Guthrie Leader, April 27, 1895: Deputy Charles Pettit arrived yesterday from the Osage country with Will Hill and Perrin Rich, two Osage dealers in ardent spirits and turned them over to the keeper of the federal inn."
It is noteworthy that the next entry after the one regarding Charles Pettit on April 27, 1895 mentioned similar activities for two of his peers, the famous lawmen Bill Tilghman and Heck Thomas.
---
Other Possible Activity
This researcher located a brief sentence mentioning lawman Pettit in the June 28, 1894, issue of The Guthrie Daily Leader (Guthrie, OK). In No 175 Vol2 on page one it was stated:
Among the Bad Ones. Deputy Charlie Petit came in from the Osage country yesterday with a horse thief.
There was also one mention of Charles Pettit in the July 6, 1895 issue of the Cleveland Bee (Cleveland, Okla Ter.)  In Vol 1, No 27 on page 3 it was stated:
Vicinity of Owl Hollow.  Deputy marshal Charlie Pettit was prancing around here the fore part of the week.
---
Family Life Near Tulsa
Oklahoma did not become a state until 1907 yet an early territorial census was conducted in Indian Territory in 1900.  On Page 93A of the 1900 Indian Territory census of the Creek Nation we find Charles Pettit as the head of a rented farm. Several important facts can be gleaned from this record.

Charles Pettit was born in Indian Territory in January of 1854.
His father and mother were born in Tennessee.
His wife was deceased and he was raising two children: Maybell born August of 1897 and Eustes born May of 1899, both born in Indian Territory.
His wife had been born in Arkansas.
No city was listed which would ordinarily make identifying his location a little complicated. Fortunately, and somewhat surprisingly, this territorial census listed the USGS township and range which was 19 N and 13 E of the Indian Meridian.  In 1900 this would have placed his farm just east of the little budding city of Tulsa.  A few pages before him on the census a "Coal Mining Camp" was also enumerated.  This was most likely the Dawson coal mines which would have been located just to the north.  There were numerous coal mines in the Dawson area which is now between Harvard and Sheridan Rd around Pine Street in Tulsa.  Little remains of the mines today and the farms east of downtown where Charles lived were gobbled up by the metropolis many years ago.  A map showing the township and range associated with Charles Pettit's farm in 1900 can be seen below.
It is possible lawman Charles Pettit is the same man who assisted two police officers in searching for a pair of female robbery suspects in Tulsa.  He was said to be a "reliable colored man" who went with the police to search out the black area of town to which they had escaped. This article was published on page 1 in Vol 6. No 46. of the The Tulsa Democrat (Tulsa, OK) on November 10, 1905.  As we will see in a moment, sources state he worked as an officer for the Tulsa Police Department sometime around 1906-1907 –shortly after this incident.
Five years later he was recorded in the 1910 Federal Census for Oklahoma in Osage County in a place called "Black Dog Township."  This location was north of Tulsa and just west of Skiatook.  (Skiatook is in both Osage and Tulsa counties.)
He was living in the home of George W. Hackleman and working as a "hired man" along with a man named John Grant.  There was no sign of his two children but young Eustes Pettit would resurface on the pages of history five years later.
Despite being raised by a lawman Eustes Pettit tried his had at thievery at the age of 16 and the chosen victim was his own father.  Eustes and someone named William Blunt were accused of a stealing a "considerable amount of clothes" and a Winchester rifle from Charles.  They were quickly apprehended in Osage county by Sheriff A. H. Eudaily and checked into the Tulsa county jail.  The father made an appearance in the sheriff's office, not to bail them out, but to prefer charges of grand larceny against them.  To read this interesting article, click the image below.
The Tulsa Daily World, (Tulsa, OK) October 21, 1915 (Note: Article mistakenly refers to Ozark county instead of Osage county):
Final Resting Place
A Find-a-Grave page erroneously identifies a Charles Pettit in the A. J. Powell Memorial Cemetery in Hominy, OK as the black lawman.  This man's grave stone shows he lived from 1872-1932.  Next to him is his wife Amarillis D. Bodwell Pettit who lived from 1873-1960.  Her obituary in the November 14, 1960 edition of the Tulsa Tribune noted that she was the widow of Charles Pettit of Hominy who was a cattle rancher and theater owner.  Indeed the 1930 Federal Census covering Hominy, OK shows both husband and wife and lists the occupation of Charles as "rancher" and "theater".  In this and all other census records in which they appear, the Charles Pettit who lived in Hominy was listed as either "Indian"  or "white".  This Charles Pettit was not the black lawman.
Instead we find that an article in the Tulsa World published On September 6, 1916, broke the sad news of lawman Charles Pettit's demise which had occurred on September 4, 1916.
Charles Pettit, for many years scion of the law on the prairies where Tulsa now stands, died Monday afternoon at the home of a friend on East Archer.  Pettit was a negro who served as a marshal and policeman for more than twenty years.

Entering the service of the government in 1889, Pettit rode the prairies of Oklahoma for many years, during which time he served under some of the famous old "man catchers" who spent their lives in the saddle as United States marshals.

After twenty years of this life, Pettit moved to the village of Tulsa which had just sprung up along his old trail, and has lived here since that time.  At one time, about ten years ago, he was a member of the Tulsa police force.

So imbued with the spirit of the law was Pettit that less than a year ago, he "arrested" his son and turned him over to the county officials.  At that time he had not worn a start for ten years.

He will be buried in Tulsa.
At the time of this writing, the cemetery he was buried in has not been identified.  Though the article above said Tulsa, he may have been buried in nearby Skiatook or Black Dog township.  Considering the time period, it is also possible it was a burial on private land.  His son had been arrested a year prior, not much is known about his daughter, and his wife preceded him in death. It is said Charles Pettit died at the home of a friend.  It is quite possible that his family was unable to afford a headstone and he was laid to rest in an unmarked grave.  If his grave is ever found, this article will be updated to reflect that.
One can't help but feel there is still more to this man's story that needs to be told.
---