The Death of Old Joshua Pettit of Spartanburg Co., SC 1780~1786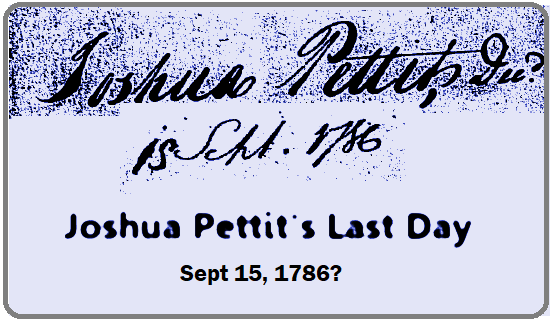 1786: Joshua Pettit's Final Year?
Chances are you have seen a Pettit family tree that shows that Joshua Pettit of Spartanburg County, SC died on September 15, 1786.  This exact day is not actually the date of his death as will be explained below.  However, it does have some significance in determining the time of his ultimate demise.  In this article we will explain where the erroneous date came from and see what important clues we can glean from the source behind it.
Since there was more than one Joshua Pettit who lived and died in Spartanburg County, let us begin by clarifying which one will be the focus of this paper.  The Joshua Pettit who was living with his wife Rachel and their children on Lawson's Fork of the Pacolet when war broke out in 1776 is the man in whom we are interested.  (His family and all known children are described here.)
Researchers often confuse his life, and death, with that of his son Joshua Pettit Jr.  Their place of residence near the Pacolet and the similar names of their children make them hard to distinguish.  Joshua Jr., his son, married Judith Poole and is known to have died in 1828.  For the sake of this paper we will refer to Revolutionary War soldier Joshua Pettit, the husband of Rachel and father of Joshua Jr., as "old Joshua".  We will review every available primary source related to the final years of old Joshua Pettit.  We will also untangle the oft confused and misapplied records that pertain to his son, who we will call "Joshua Jr".
Prior to September 15, 1786
September 15, 1786, is an oddly specific date.  Where did it come from?
Source #1: Accounts Audited of Claims Growing out of the Revolution in South Carolina -Joshua Pettit
The South Carolina Department of Archives and History (SCDAH) maintains Revolutionary War records including 165 microfilm rolls of "Accounts Audited of Claims Growing out of the Revolution".  Joshua Pettit's claim for militia duty in Roebucks Regiment is found in Series AA5901, Roll #117, pp427-8. An excerpt is shown below.
There are a few things to note in this brief little record. First, at the top of the account was the date September 15, 1786.  Second, Joshua Pettit is listed as "decd" which is shorthand for "deceased".  Also note the duration of his military service, "before and since the fall of Charleston, per Anderson's return." These are crucial clues that we will cover in a moment. For now, let us look at the context of this record.
The SCDAH states that these documents were "presented by citizens to the treasury to support their claims for military service, supplies, and other contributions rendered the state during the latter part of the Revolutionary War."[1] In the case of "Anderson's Return" mentioned in Joshua Pettit's account, the documents appear to be not presented directly by the citizens but by Col. Robert Anderson himself.  Though it is outside the scope of this paper, it is worth mentioning that there was some dustup over Anderson's return i.e. his roll of soldiers under his command. This resulted in two laws being passed by the General Assembly specifically addressing Col. Anderson –one which accused him of intentionally destroying his records and the other repealing this law (and presumably the accusation.) A more thorough analysis of all these Revolutionary War documents including the controversy surrounding Col. Robert Anderson will be covered in a separate article on this site at a later date.
By itself, the "Account Audited" record does not expressly reveal much about the date at the top of the account but the associated record does.
Source #2 Stub Entries to Indents Issued in Payment of Claims Against South Carolina
The "Stub Entries to Indents" are actually the other half of the certificate usually found in the claimant's "Account Audited" file.  The two papers literally fit together like a puzzle.  The "indent" was the wavy cut line in the certificate and retained by the State while the certificate went with the claimant to be redeemed later for money or land.  When the claimant presented the certificate for redemption, the two pieces were matched up and in this way the State discouraged fraud.
Unlike his son Henry Pettit, the Account Audited for Joshua Pettit does not contain a copy of his certificate.  There are no wavy lines to match up.  All we have is the indent retained by the state.  If he obtained his certificate before his death, the record suggests he never personally redeemed it.  However, we do know that a certificate was issued because the state half of the copy (the indent) is still in existence. A copy obtained by this researcher can be seen below:
The date on the indent as well as the account audited was September 15, 1786. So, what happened on September 15, 1786?
So…. What Happened on September 15, 1786?
This is going to be anticlimactic unless one finds auditing treasury accounts exhilarating.  The Auditor General of South Carolina, James McCall, was responsible for auditing all the Revolutionary War claim accounts. The September 15, 1786, date has been mistakenly assigned as the day Joshua Pettit died when it was actually the date his account was audited.
September 15, 1786, was the day several accounts from Anderson's return were audited in alphabetical order for people with surnames beginning with the letter "P".  The following day, September 16, the auditor analyzed accounts in the "R" to "S" range, ending with Nathan Smith.  It appears the auditor took September 17 off (it was a Sunday), returned to work on September 18, 1786, and continued on in like manner until he was done with the volume.  Thus September 15, 1786, bears no significance to the death of Joshua Pettit other than to tell us he was gone prior to this date because this was the day his account happened to get audited.
To fully understand the implications of this on the timeline let us examine an unrelated man found in the same account book as Joshua Pettit. In indent book X, vol. II, we find that David Gowen's account (No 3520) was audited on August 9, 1786. The account states, "David Gowen, dec'd for military duty before the fall of Charleston in Roebuck's Regiment per Anderson's Return".[2] Gowen, like old Joshua Pettit, was listed as deceased in 1786. However, Gowen genealogists note that his death occurred five years prior in 1781. An inventory of his estate found in Davidson County, Tennessee plainly stated that he "died in the year 1781."[3]
This example tells us that old Joshua could have likewise died in the years prior to 1786.
We can use the date of September 15, 1786, as a hard line at one end of the timeline which Joshua Pettit did not pass.  To establish a range of when he died, we must next find the last record of something he did while living.
Joshua Pettit's Last Acts
We know with certainty that Joshua Pettit was living in April of 1779 when his daughter Rachel was born.  According to his grandson, John Pettit, it was Joshua who recorded the date of her birth in the family Bible.[4]
After this date we can place Joshua Pettit in the military action "before and since the fall of Charleston per Anderson's return."  History tells us Charleston fell into British hands on May 12, 1780.   Thus, our timeline can be pared down to this date.  We can say that Joshua Pettit's final day would have been sometime between May 12, 1780, and September 15, 1786.  Between these two dates there is only one other record known to this researcher which may suggest old Joshua Pettit was living as late as 1785.
100 Acres of Land on Lindsey's Creek of the Pacolet
On May 17, 1785, a warrant for 100 acres of land was issued to a Joshua Pettit. This was located on both sides of Lindsey's Creek on the Pacolet River just southwest of present day Clifton.  The warrant was issued by John Thomas Esquire, the Commissioner of Locations, and does not mention the type of warrant. Ten days later, on May 27, 1785, this land was surveyed by resident surveyor Andrew Thompson.[5]
The next step in the process would have been for Joshua Pettit to complete the purchase of land by obtaining a title.  For reasons unknown, he never completed this step.  Instead, the warrant elapsed and a re-survey was done for Reuben Matthews on January 6, 1787.[6] 
It is not known if this 100-acre warrant was issued to old Joshua Pettit or his son Joshua Pettit Jr.  Complicating the matter is the lack of a known birth date of Joshua Pettit Jr. We don't know if he would have been of age in 1785.  Recent research suggests he would have been. Judging by census data and other factors it is likely Joshua Pettit Jr. would have been born before August 6, 1765, and thus would have been old enough to file for the warrant on Lindsey's Creek.
This leaves us with two equally probable scenarios.  Either Joshua Pettit Jr. obtained the warrant in 1785, paid for the survey, but was unable or unwilling to finish the process to obtain the title.  Or old Joshua Pettit obtained the warrant in 1785, paid for the survey, but died before he could complete the process.  If the second scenario is true, and old Joshua was the man who obtained the warrant, then his death occurred between May 17, 1785, and September 15, 1786.
Adding weight to the argument that the Lindsey Creek warrant was for old Joshua is the amount of acreage that was warranted.  100 acres just happens to be the precise amount of land that was awarded to soldiers in the Revolution in South Carolina who had completed 21 months of service.  This bounty was established by an act of the General Assembly (No 1137) passed on September 11, 1779.[7]  If Joshua had enlisted at that time, there would have been ample opportunity for him to serve 21 months and obtain a bounty warrant for 100 acres by 1785.  But alas, in the absence of conclusive evidence, all we can do is speculate.
Did Old Joshua Pettit Die in 1780?
There may be reason to believe old Joshua may have passed on much earlier than 1785-6.  If the 1785 warrant was not issued to old Joshua Pettit but instead his son, then we must push the timeline back to the fall of Charleston on May 12, 1780, as the last true record of old Joshua.  There are some unusual events recorded at the Pettit farm which lend credibility to the theory Joshua had died by the end of 1780.  My late friend George Pettett summarized this in his book Pettett & Pettit: This Family Business[8] on page 15 which states:
One curious development suggests Joshua Pettit had not returned home from service at Charleston by November 1780.  Patriot troops under General Thomas Sumter foraged for supplies among the farm families of the Pacolet.  Records show troops under General Sumter took one beef plus a supply of fodder from Henry Pettit [sometime in 1780].  Henry was then 17 years old and unmarried.  As eldest son, he may have acted as head of household in the absence of his father.
George Pettett continued this speculation on page 16 of his book where he wrote:
A second instance calling Joshua Pettit's whereabouts into question occurred in May 1783.  Henry Pettit submitted a reimbursement claim for two beeves and a supply of fodder taken for troops under General Andrew Pickens in 1782, "… by confusion of the times he got no receipt."  This revives speculation that Henry, as eldest son –then age 19 and unmarried in 1782 –was recognized as head of household in Joshua Pettit's absence.  If the father had returned from military service, he should have been in charge of such a 1782 negotiation with General Picken's foragers.
George Pettett's reasoning is sound, but he was careful not to draw any hard conclusion. We do not have enough information to know for sure but if proven, this would mean old Joshua Pettit died sometime in 1780.
Missing Probate Records
Usually these sorts of mysteries could be solved by examining the probate records.  To date, no will, probate records, or any estate papers have ever been located for old Joshua.  The will that is commonly associated with old Joshua Pettit and linked to him as a source on numerous family trees is a will that belonged to his son Joshua Jr.  The confusion is understandable.  Look at the similarities in their children's names below: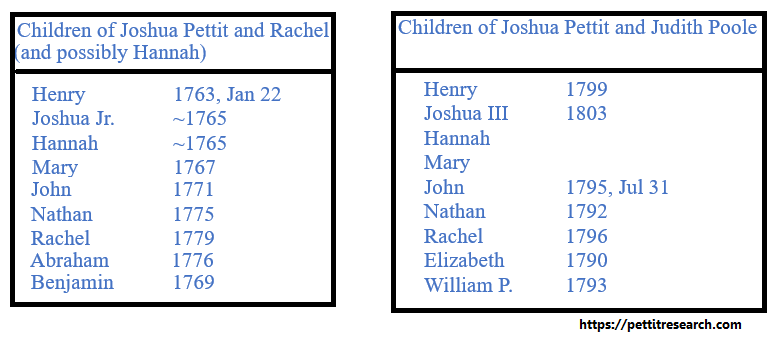 The Joshua Pettit Jr. will is found in Spartanburg County will book B on page 136-140.  It was written on December 15, 1826, and recorded on February 15, 1828. A typescript which was generated by the Works Progress Administration based on this copy is also in circulation.[9]  Wills and probate records in South Carolina are largely preserved.  So why don't we have probate records for old Joshua?
If old Joshua Pettit died in the 1785-1786 time frame while he resided in 96 District, there is a narrow chance his probate could have slipped through the cracks due to changes in the state government.
Spartanburg County, where the Pettits lived, was created by an act of the South Carolina General Assembly (No 1263) on March 12, 1785.[10] The act divided up the large districts into smaller more manageable counties based on the existing circuit courts.  The state authorized the county commissioners to construct the county courthouses, but did not fund the initiative. The county was given legal authority to set up an annual tax to pay for the new county government, but that money did not come in overnight. Understandably, some counties were slow to fully set up their courts as they had to first raise the funds to do so.  Perhaps as a consequence, Spartanburg County did not start keeping probate records until 1787 when the court of the ordinary was established there.  Thus, probate records that were supposed to have been handled by the newly created Spartanburg County after 1785 were handled elsewhere until 1787.  As bad luck would have it, the year Joshua Pettit is thought by some to have died falls right in the middle of this period. A search for old Joshua Pettit's probate records has been made in neighboring counties, in Charleston records, and in the old seat of 96 District but to no avail.
If old Joshua Pettit's probate records exist and someone reading this locates them, please contact me!
The likelihood of them being filed away in some obscure location in South Carolina is probably slim.  Another possibility is that Joshua Pettit was not an official resident of South Carolina at the time of his death.  Though it is clear from the record that his family was firmly planted and raising cattle on the Pacolet, this does not mean this was his primary domicile.  If he was headquartered in another state, like Virginia or Georgia, then his probate records could be found there instead.
Though we do not have the record, there are some clues that indicate his estate was probated.
First, his certificate for military service was physically separated from the indent and presumably given to someone who was entitled to it.  The indent says the certificate was for "the estate of Joshua Pettit deceased".  As noted above, the claimant's portion of the certificate is not in his audited account and was not in his son Henry's account so whoever had it probably never redeemed it.
Additionally, his daughter Hannah Pettit who is thought to have been the wife of Joel Hembree signed what looks like a release of dower for a land transaction in southern Spartanburg County on January 3, 1794.  How she came to have a legal interest in the property that would require her approval of the transaction is not specified.  (Joel Hembree obtained the original in 1791.) Female ownership of land in this time was often the result of an estate disbursement resulting from a will. It should also be noted that Henry Pettit was one of the witnesses to this deed along with Andrew Thomson.
No Will, No Problem
Even if Joshua Pettit died intestate without a will, his property would still have had to go through probate.  Any land he owned would have went to the eldest son and other real property would have been divided among the children. This system, known as primogeniture, was based on English law and is described in the 1984 paper Family Relations and Inheritance in Early South Carolina, John E. Crowley[11]:
Royal colonies, including South Carolina, initially adopted the English law of intestate estates as well as the customs of primogeniture and dower.  The law of intestate estates dealt with personalty, property  other than land. It gave the widow one-third and the children equal shares of the personalty, after expenses and debts of the estate had been paid. Primogeniture gave the eldest son exclusive succession to the land. Dower gave the widow lifetime use of one-third of the land. In the two decades after the American Revolution those states which as colonies had used primogeniture and entail abolished such practices and changed the law of intestacy to eliminate privilege in the succession to family property.
This system would not be upset by the state until some time well after 1786.
Transactions Beyond the Grave?
Finally, there are a couple of perplexing anomalies in the timeline that should be mentioned.
The first is another land venture by a Joshua Pettit and John Hembree that started with a warrant for 620 acres issued on November 15, 1788 -a full two years after old Joshua was listed as deceased in the audited account.[12]  Previous analysis by the researcher and others had ruled out the possibility of this being Joshua Pettit Jr. because of an erroneous assumption that he would have been too young.  The "traditional" date assigned to his birth was 1773 which was likely based on a bad reading of a poor copy of the Pettit bible record in years past.  In light of new research pushing his birth date back to at least 1765, Joshua Jr's age is no longer a limiting factor –he would have been at least 23.  Thus the 1788 warrant was probably obtained, not by old Joshua, but by his son Joshua Jr.
As with the previous Joshua Pettit warrant on Lindsey's Creek, neither Joshua Pettit nor John Hembree would finish the process to obtain a certified title.  However, Henry Pettit Sr. (b. 1763) would later purchase a 300 acre portion of this tract from John Gray in 1793[13] and deed most of it to his brother Joshua Pettit Jr. in 1801.[14]  This tract was situated across the Pacolet River from William Poole's "Healing Springs" and is where Joshua Pettit Jr's ancient grave stone can be found today in what has been called "The Pettit Cemetery."
This brings us to the last anomaly which is the transference of land likely owned by old Joshua Pettit on Deep Spring Run in what was then Hardy Co., Virginia that occurred in 1790[15].  According to the purchaser, Christian Eyman, he purchased the "saw mill" tract from "a certain ____ Pettit".  At two places in his deposition Eyman left a noticeable blank where the first name "Joshua" should have been.
The chancery court made the following determination "…Christian Eyman obtained a patent as assignee of Joshua Pettit…" This was also confirmed in 1791 by a letter from Governor Beverly Randolph's office which stated "… Christian Eyman assignee of Joshua Pettit a certain tract or parcel of land containing three hundred and forty-seven acres…"
A Joshua Pettit purchased the 347 acres of land in 1769 as evidenced by Northern Neck land records and the survey notes of Joseph Neville.[16]  Technically, Eyman, never specified the given name of the Pettit who sold him the land in 1790.  The court determined it was Joshua Pettit based on the records produced. Eyman could have bought the land from any "Pettit" including one who may have been the executor or administrator of the estate of Joshua Pettit.
Conclusion and Summary
No probate record for old Joshua Pettit has ever been found. There was no record of property disbursement, no inventory, no administrators, and no creditor petitions.  There are clues that point to a possible probate such as land transactions involving his daughter Hannah and a small reference to an "estate" in his Revolutionary War account.  There is no family lore that speaks to the cause of his departure from this world.  There is not much we can say for certain except that he probably did not die on September 15, 1786.
The best evidence indicates old Joshua Pettit of Spartanburg died sometime between the fall of Charleston on May 12, 1780, and September 15, 1786.  The time, place and cause of his death remain a mystery.  The clues are few and the inconclusive speculation is voluminous.  In death, old Joshua Pettit passed through the official record like the shadow of a ghost.
It would be fair to say that Joshua Pettit died in the same manner in which he lived –always just beyond the reach of his descendants' best efforts to find him.
---