First Pettits in America Series #7 -Francis Pettit Virginia ~1630s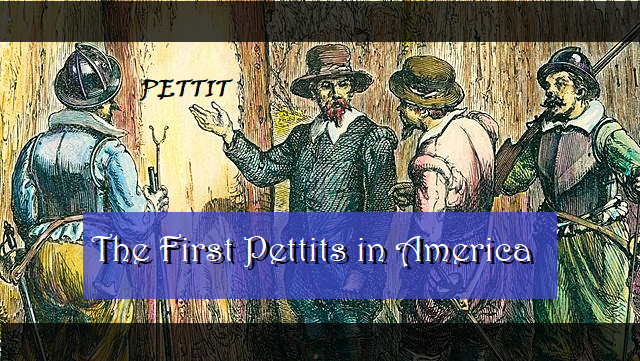 Francis Pettit was an early immigrant who settled down in Northampton County, Virginia in the 1630's.  Much of the information involving him can be found in the many versions of abstracts of the colonial records performed by Beverly Fleet in the 1930s-1940s.  Unless specified otherwise, the quotes used in this article mostly come from Virginia Colonial Abstracts published in 1988 by Genealogy Publishing Company which was a three volume compilation of Fleet's abstracts.
Francis Pettit in America ~1630
Somewhere an early land grant or deed to Francis Pettit probably exists which would set a solid date for his arrival in Virginia.  We know he had acquired land by the 1630's and was leasing land out to others by 1638.  Aside from this, the record indicates Francis Pettit was already living in Virginia, as early as September 5, 1636.  It should be noted that Accomack County and Northampton County bounded each other on the Eastern Shore of Virginia and both counties have information on this Pettit.  In Accomack County, 1632-1637, Fleet recorded the following: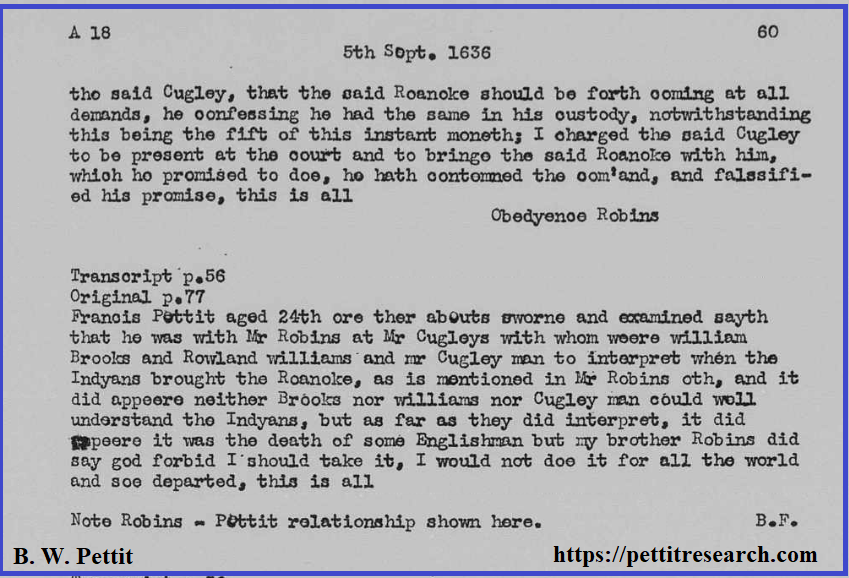 The court recorded that Francis Pettit was around 24 years old at the time his statement was given which was on September 5, 1636.  This would put his birth year around 1612.  It also indicates there was some kind of familial relationship between him and Mr. Robins who he called "my brother".
Plantation, Rent, and Other Business
By April 9, 1638, Francis Pettit was living on a plantation on Virginia's Easter Shore.  On that date, the Accomack Court recorded the following:
Mr. John Neale and Nicholas Harwood concerning arrears in rent for plantation Mr. Pettit now lives on.
In May of 1638, Francis was before the court again claiming that Neale and Harwood owed him "700 poundes of tobacco arreares of rent for the Plantation which they sold" him.
Later that year, in November of 1638, the court made an order in favor of Francis Pettit concerning his plantation:
John Towleson to pay Francis Pettit for his plantation or else to replace the plantation againe to the said Pettit.
Francis Pettit Land Location -Virginia Eastern Shore, Cherrystone
When an Indian uprising was feared in 1644 an order was given for the colonists to evacuate…
"from the house of Francis Pettett on both sides of Churristone Creeke to the North side." 
Thus we find that Francis Pettit's house was near Churristone Creeke which, in modern English, would be called "Cherrystone Creek."  The location of Cherrystone Creek is a bit hard to pin down.  The original name of the creek was the "Accomack River" and was described very early on in John Smith's history of Virginia who gives an account of the native Indian tribe that resided there.  The reason for the name change to Cherrystone Creek was described by Nora Miller Truman in Eastern Shore of Virginia, 1603-1964:
The boundaries were designated as Cherrystone Creek, formerly Accomack River, and Savages Creek, originally Mattawoman Creek. This change of names of streams was becoming general in Virginia and sentiment was growing for the Indian name Accomack to be replaced by an English name for the county.
The creek is further described in the same book as the location of a business venture of Obedience Robins, who was the same Mr. Robins said to be Pettit's "brother" in the 1636 records previously discussed.  He had apparently settled on the south side of the creek not far from Pettit.  Truman writes:
Obedience Robins was expanding his cattle and tobacco raising activities on the south side of the mouth of Cherrystone Creek, formerly Accomack River. In 1642, he and an associate, John Wilkins, employed an itinerant millwright to erect a windmill.
The Cherrystone Creek/Accomack River found in these ancient colonial documents is most likely the large bay today known as Cherrystone Inlet.  It is in Northampton County and is fed by several creeks, none of which have the name Cherrystone.  However, a small unincorporated village by that name lies on the south east side of the inlet and does have a tiny unnamed stream which runs through it to the location of an old wharf.  Since this creek was once considered a "river", it stands to reason the entire inlet was probably considered Cherrystone Creek.  The evacuation of the area in 1644 must have included all settlers on all sides of the inlet.
Only one map has been located which refers to the area as Cherrystone Creek.  It can be seen below:
An older colonial map from 1719 only notes the location of "Cherriton".
The location on a modern map can be seen below:
(The location can be seen at coordinates 37.3072989328417, -75.99840908259084 found on a google map at this link.)
Francis Pettit Sr, Jr, III, or IV?
At some point in the record we run into a problem distinguishing Francis Pettit from a man who was likely his son by the same name and many others.  In 1650, Ann Pettit, presumably Francis Pettit Sr.'s widow, willed her entire estate to her two sons Francis and Justinian with the exception of one heifer given to her "husband's goddaughter", Dorothy Robins.  The logic that follows is Francis Pettit Sr had died before 1650 and any records naming a Francis Pettit after that date would be in reference to his son (or subsequent generations).
With that in mind we don't know for sure if the Francis Pettit who appeared before the court in 1645 to give a deposition was the elder or the younger.  At any rate, a Francis Pettit did appear to give testimony regarding a dispute between John Savage and his cousin Thomas Savage.  He stated in open court:
This deponent saith that about ffebruary last past Thomas Savage desired this deponent to goe along wth him unto John Savage and when they came unto the sd John Savage Asked the sd John Savage saying how is it Cozen And John Savage replyed saying I am much dampnifyed for want of my house and my hogd of tobacco. The sd John(sic) (Thos) Savage replyed saying I think I did you a courtesie in not comeing, for I should have but eaten upp yor Victualls the weather being soe vehement cold but I heare you will have mee to keepe upp my hogs in a penn all the yeare And the sd John Savage answeared you shall keepe upp yor hoggs as the rest of yor neighbors doth if they doth you shall or words to that effect, but further the sd Thomas Savage told him saying I will come and doe your work by the first of March you getting timber in readynes and I will pay you yor hogd of tobacco, And this deponent further saith that about March last past Tho: Savage being at work about the house of John Savage came to this deponent and entreated him to write the agreement betweene him and John Savage, And this deponent went and could not write it by reason his hand did shake soe John Savage did write it himselfe And further saith not. Signed: ffra. Pettett
After this 1645 deposition, this researcher has found one other record of note that may have been generated by the elder Francis Pettit.  The record is actually from Maryland but refers to Northampton Co, VA.  The abstract is in Maryland, Early Settlers, Land Records by Ann Walker Burns Bell and states that a Captain Francis Pett? [Pettit] from Northampton County, VA, in 1648 gave to Thomas Hatton his son by the same name (Thomas Hatton).  Thomas Hatton the junior was born March 14, 1642, so it is not entirely clear what happened to require Francis Pett/Pettit to give Thomas Hatton his son.  An excerpt is below: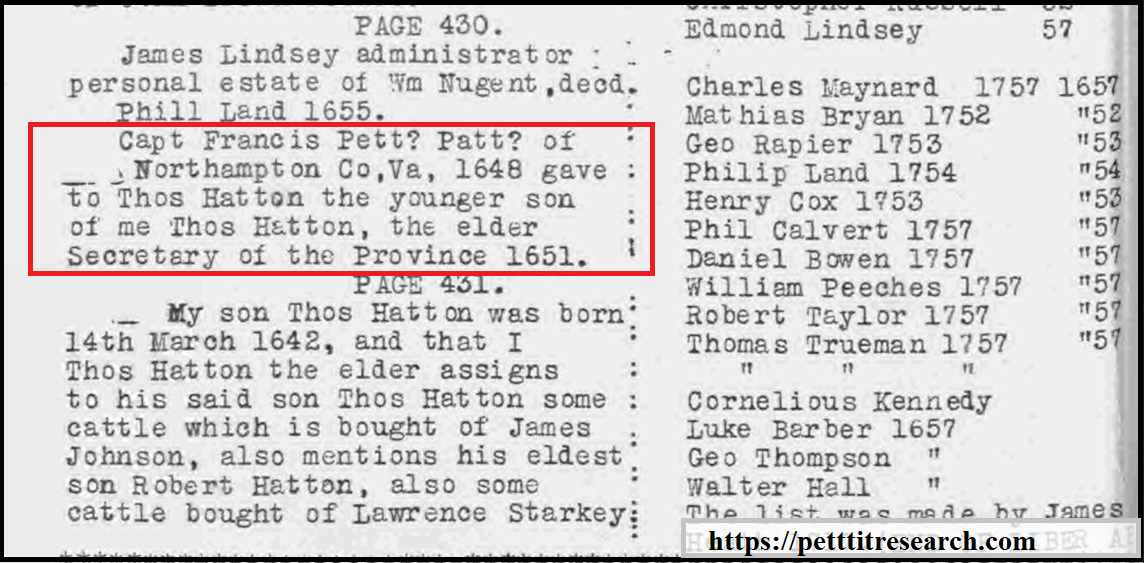 This record prompts two questions which we cannot currently answer.  1) Was this indeed Francis Pettit or was it someone from the same county in 1648 named Francis Pett?  2) Was Francis Pettit a ship captain?
Aside from the above unresolved mystery, we have another issue to deal with.  It should be noted that some researchers have assumed the Francis Pettit who appeared in Virginia in 1636 and the Francis Pettit who left a will in 1688 are one in the same.  This is an error which can be found in many family trees online.  The confusion is probably because another man, Francis Pettit III, in this area was labeled "Junior" in some records leading to the conclusion he was the second of that name and not the third.  However, this is not correct for several reasons.  The use of the term "junior" at the time often meant "younger of the two" and was used even though the name-holder may have been the third or fourth with that given name.  Also significant to this mystery is a rare bit of genealogy tucked away in a registry of cattlemarks by a Francis Pettit in 1667.
Northampton County, VA Cattlemarks 1665-1742 – Transcribed by Frank V. Walczyk states:

January 12th 1666:

Mr. Francis Pettitts mark, underhalfed on both ears, and cropt on the left ear.

September 14th 1667:

Justinian Pettitts mark, which was Mary Andrew's mark, cropt on both ears and a hole in the right ear, with two slits under the hole.

Francis Pettitt Junior his mark, that was his grandfather's mark, cropt and underhalfed on the left ear the right ear whole.
This last entry in 1667 is incredibly important.  This entry for "Francis Pettit Junior" reveals that he was the third generation Pettit in Virginia to use the cattle mark.  He stated he was using his grandfather's mark.  As we will reveal in the next section, there was a Francis Pettit living in the late 1600s whose father's name was also Francis Pettit who died in 1688.  It is highly likely he was the same man described above, making him Francis Pettit III even though he went by "Junior".
This assessment is admittedly a little confusing.  In summary we can simply note that there were at least three Francis Pettits who had lived in Northampton Co., VA by 1690.  One died before 1650, one in 1688, and one was still living in 1697.  It may be difficult to distinguish between them but we can safely say there were three of them and the oldest was born in 1612 and died by 1650.  He was the immigrant.
Francis Pettit Descendants and Associates
In Cavaliers and Pioneers Abstracts of Virginia Land Patents and Grants – 1623-1666, Baltimore, MD: Genealogical Publishing Co., Inc., 1963, Vol. 1,  by Nell Nugent we find the following entries of historical value:
LT. COLL. WILLIAM KENDALL. 300 acs. in same [N'ampton] Co. 1 Sept. 1664, p. 121, (623). At the head of Cherristones Cr., W. on his own & land of Francis Pettit... [page 434-435]

FRANCIS PETTETT, 300 acs, N'ampton Co., 14 Oct. 1665, p. 424, (500). Near the head of Cheristones Cr. on S. side of Hogpen Cr. & main br. thereof, bounding on the N. part therewith dividing this from land of Capt. Jno. Savidge, on S. parte by Snag pine br. & trees running from the head thereof E.N.E. to marked tree parting this from land of Lt. Col. Wm. Kendall &c. 200 acs. formerly belonging to Capt. Jno. How, since escheated to his Majestie & granted to Maj. Wm. Andrews, who sold to sd. Pettett 4 Sept. 1664 & 100 acs. for trans. of 2 pers: Migo & Charles, Negroes [page 532]

Col.Wm.Kendall, 600 acs. according to the antient lawfull bounds thereof in N'ampton Co., 18 Oct. 1665. p. 427, (504). Formerly belonging to Capt. Jno. How, dec'd. & lately found to escheate &c., the Jury sworne before Col. Jno. Stringer, Dep. Escheator for that Co., dated 30 Sept. 1662 &c. & now granted sd. Kendall who hath made his compositon &c. Also 300 acs more joyning upon the sd. land, bounded Wly. on his own & land of Francis Pettit, Nly. on Jno. Savidge, Ely. on Capt. Phill. Telyo, (?) dec'd., Sly. on land of Maj. Wm. Andrewes and a former pattent of Col. Obedience Robbins dated 20 Mar. 1643. Granted to Major Wm. Andrewes 15 Oct. 1660, by him deserted & upon petition of sd. Kendall granted him by order &c. & due for trans. of 6 pers: Mary Barnes, Walter Banington, John Hawkins, Tho. Hemence, Eliz. Merrick, Hester Ridly. [page 533]
The above tells the story of the Pettit family land and its location in greater detail than previously given.
In August 28,1666, the names of  a Francis Pettit (Jr) and Justinan Pettit are given in the county of Northampton's list of titheables.
On September 3, 1678, a Thomas Heddy willed a Franics Pettit 475 acres and also gave his bed to "Mary Pettit Jr."  From this reference it can be somewhat safely assumed that this Francis Pettit's wife was named Mary Pettit (Sr.) and their daughter was Mary (Jr).  Heddy also gave one heffer to a John Pettit.  The immigrant Francis Pettit's wife and widow was named Ann so the man mentioned in the Heddy will with a wife by the name of Mary would most likely me Francis Pettit II.
On February 9, 1688, Francis Pettit II made out his will.  He listed his children as follows: eldest son Francis Pettit (III), son William Pettit, son Thomas Pettit, son John Pettit, son Justinian Pettit, son Bartholomew Pettit, daughter Mary, and daughter Anne.  His will was probated on March 29, 1688.
In 1697 Francis Pettit III gives some important genealogy information in a land deed.  He stated that his land conveyance included part of a tract left by his "deceased father Francis Pettit to my brother Thomas Pettit".
From later land transaction and wills of Pettits and other related families a simple family chart can be constructed.  (The reoccurring names of "Francis" and "Bartholomew" Pettit in later generations complicate things significantly.)  This Pettit family flourished very early in colonial Virginia.  It is not known if there are any living descendants of Francis Pettit today though such a possibility would be very likely.  Below is a list of the first few generations into the early 1700s.
Francis Pettit I (b. ~1612 – d. ~1650) + Ann (d. 1652)
Francis Pettit II (d. ~March 1688) + Mary
Mary Pettit
Francis Pettit III
William Pettit
         William Pettit Jr
Thomas Pettit
Francis
Mary
Ann
Sarah
Elizabeth
John Pettit
Agnes
Justinian Pettit
Bartholomew Pettit
Bartholomew Pettit II
Jacob Pettit
Vienna Pettit
Peggy Pettit
Mason Pettit (daughter)
Elisha Pettit (daughter)
Ann Pettit
Ann Pettit
Summary and Conclusion
A Francis Pettit was born around 1612 and was living in Northampton County, VA as early as 1636.  He owned a plantation near Cherrystone Creek on the Eastern Shore.  He was married to a woman named Ann and had at least one son named Francis.  He was also related in some manner to Obedience Robins.  He died around 1650 and his widow died around 1652.  He had many descendants who resided in the area for a number of years afterwards.
---