First Pettits in America Series #4 –John Petit/Pettit, a French Surgeon in Virginia, ~1638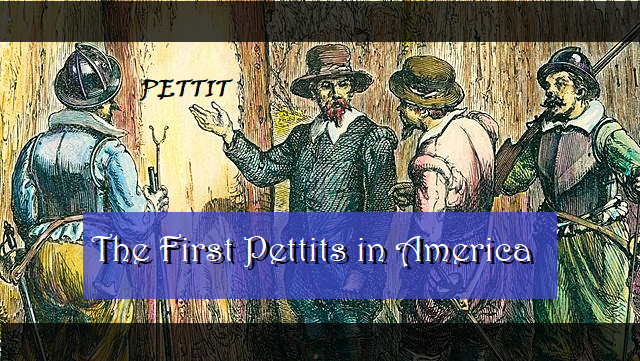 John Petit, a French Surgeon in Virginia, ~1638
A John Pettit from France settled in with the predominantly English colonists in York County, Virginia around 1638. He was granted land in Charles River County on Feb 22, 1638, for the importation of 2 people: Edward and Elizabeth Reynolds.  In this record John "Poteet" is identified as a "Chirurgion" which is the Middle English version of the Old French word for "surgeon".
In addition to the the unique spelling of his occupation, this fellow was also identified by every imaginable spelling variation of his surname.  It is quite possible he originally pronounced his name "Petit" as the French commonly do, but it also seems he eventually adapted quite well to English society and customs. Beverly Fleet, the abstractor behind several volumes of Virginia genealogy material had this to say about the spelling of "John Pettet" while studying a fragmented manuscript for her abstracts:
The fragment suggest that the name Pettit may have derived from this confusion of tongues here in York County.  (Fleet, Beverly, Virginia Colonial Abstracts Vol 24, p42)
The most significant genealogical material which pertains to John Pettit comes from the last few years of his life.  On November 7, 1666, he petitioned the House of Burgesses while in Virginia to become a denizen.  Among other things this status would have given him the legal right to dispose of his property via a will. His petition is found in old York County, Virginia Record Book 4, on pages 151-152 and is transcribed below:
Whereas John Petit, a Frenchman by birth but an ancient inhabitant of the Country whereof his marriage abode, children, many services and approved fidelity have justly made him reputed a member, have petitioned that he might be admitted into a stricter tie of obedience to his sacred Majesty by being made denizen of this Country—It is by the Governor, Council and Burgesses of this grand Assembly granted and ordered that the said John Petit be made a free denizen of this his Majesty's Country of Virginia and thereby vested and indulged in all such freedoms, liberties, privileges and immunities whatsoever as any denizen is capable of by law or by his Majesty's gracious declaration or anything therefrom justly inferred, provided the said Petit take the Oaths of Supremacy and Allegiance to his Majesty before his Majesty's Commissioners in the Court of that County where he inhabits.
His will, written on December 1, 1669, provides some helpful details about his family.  His oldest daughter was Elizabeth Matthews the wife of Philip Matthews. His youngest daughter was Margaret [Cleton?] the wife of Jeremy [Cleton?].  His wife, who survived him, was named Rebecca Petit.
Several other documents exist which fill in some details of his busy life in the young colony.  Most of these can be effectively studied using the abstracts prepared by Beverly Fleet in her work Virginia Colonial Abstracts Vols 25-27.  Some excerpts are provided below:
1645
No. 2. p.59 Entry mutilated. The fragments show "Mr Robison received of" Mr Haredge (?) 240, and "part of John Pettet his debt of 400 and Caske"
May 25, 1646
No.2. p.142   Deed of Gift. 25 May 1646. Rich: Pasmuch, for natural love and affection, gives Edw: Yarborrough Junior a cow calf.  The male increase descending "backe unto me the sd Richard Pasmuch".
Signed Rich: Pasmuch
Wit:
John Petit surgeon
W Baxter
Jun 16, 1646
Inventory of the estate of Thomas Broughton deceased 16th June 1646.  Appraised by Nathniell Warren and John Oliver.
Includes:
a bill of Thomas Kingwell  0100 lb tobacco
a bill of William Carr 0108
a bill of John Peteetes   0600
a bill of Mr. William Lights 0300
To tobo recd of Wm Thornton 0350
Due on a/c from Nicholas Jernew 0100
by Order of Court from Edward Grives 0700
50 acres of land with a house
Exhibited on aoth by Richard Townshend
Ro Bouth Clr Cur
1646
p.212. John Peteet to have attachmt agst est of Brotrum Oberd for 300 lb tobo "in regard the sd Oberd is gon out of the Cololony to Mary Land.
1647
p.312. Henry Hacker owing John Peeteete 535 lb tobo is ordered to pay unless he prove the debt settled before Capt Ralph Wormely and Mr Richd Lee.
1647
p.313 Jno Peeteet confesses judgt to Geo Ludlowe Esqr for 660 lb tobo.
1647/8
p.327. Peeter Rigby arrested at suit of Jno Peeteete and attended Court 2 days but no action agst him.  Peeteete nonsuited and ordered to pay Rigby 50 lb tobo.
1648
p.355. That John Peeteet did arrest Peeter Rigby to two Courts for 430 lb tobo. One bill given that Peeteet "should cure the said Rigby of the Country Dutys which was not at all performed", as appears by several depositions. The debt cancelled.
1648
p.357. John Peeteete ordered to pay debt of 616 lb tobo to Arthur Price.
1648
The Estate of Thos. Deacon, dec'd (continued)

per John Clarke, Robert Ellison, Thomas Loveing, Richard Simons, Thomas Gibson, John Peeteete, John Grigg, Dicto Chrismas, William Gantlett, John Hartwell, Andrew Carelesse, Anthony Wady, Thomas Shaw, John Flood, Wm Browne, John Weaver, James Harris, John Sheppard, Mr. Pryor, Mr Chew, John Claxson, Hugh Allen, Edward Adoocke, Thomas Borne, Capt Harwood, Mr. Vause, Thomas Griffin, Thomas Taylor, Edward Grimes, Mr. Jurnew, Peter Richardson, Mr Dobbs, Rich Duning, David Fox, John Perrin, Anthony Lenton, Mr. Wyatt, Thomas Hatfeild, Mr. Underwood, Robert Blackwell. [Note: tobacco amounts omitted for brevity.]
1648
No.2 . p.355. Jno Harmor summoned as witness for Tho Bushrode agst Jno Peeteete to be pd 30 lb tobo.
1657
p.14. Est. of John Humphreyes, dec'd., with sum given, total 39038, year 1657. Paid:

Mr.  Michell (twice), Thomas Ballard, Thomas Brookes, John Peteet, Thomas Hales, Charles Kiggon, John Pottlin
Mar 12, 1657
p.19 We whose names are written below were by Col. Thomas Ludlow sworn to make inquiry into the manner & cause of the death of one found lying on the shoare near the River in Yorke parish, having accordingly visited the dead corpse with a mark on his shirt being T:B:, Mr. Thomas Baxter who was 3 months since drowned near the ship in York River and cast on shore by the tide, the cause of drowning we supposed to be (by report) by the oversetting of a small boat wherein he with Mr. Giles Mode & some others were cast overboard. 12 March 1657. The Coroner's Jury:

Thomas Beale foreman, Clothper Lucas, John Peteet Chyrurgion [Surgeon],  Edward Dale, William C  Spyner, William Reynolds, William Spence, Thomas Crouch, John I Shelley, William Pattison, William W. Walker, Hugh Roy, Rec. 12 Mar 1657.
May 6, 1658
p.29. Inv. of the Est. of Charles Kiggon, dec'd., 6 May 1658, by order of Court, 24 April 1658. The names in the Inv. are:

James Bray, Thomas Michell, John Peteet, Thomas Crouch, Lewis Roberts, John Dicke
1658
p.42 A. Cert. to Mr. John Peteet for 300 Acres of land for Trans. of: Elizabeth Miller, Margaret Goare, Susan __, Margaret Grynidye, Elizabeth Williams, Margaret Artherinton.
1658 [Note: Some of these names sound French]
p.42 A. Cert. to John Peteet for 500 Acres of Land for: Sarah Richeson, Ellin Richeson, Richard Hallaway, James Collins, Jeremiah Laude, James Coale, Owin Mecue, Phillip Prosser, John Couter & one negroe.
1658 [same page as above]
p.43. The dif. betw. Sebastian Terrin & John Peteet is ref. to the next Court
Summary
John Pettit/Petit came to Virginia from France as early as 1638.  He settled in the Charles River County area which would become York County.  He was a surgeon.  He petitioned the House of Burgese to become a ditizen in 1666.  His will was written in 1669 and it revealed John Petit married a woman named Rebecca and had two daughters, Elizabeth and Margaret.  No male heirs were listed in his will.  He died sometime around 1670.
---