First Pettits in America Series #3 –Colonel Thomas Pettit/Petty/Pettus of Littletown Virginia, ~1641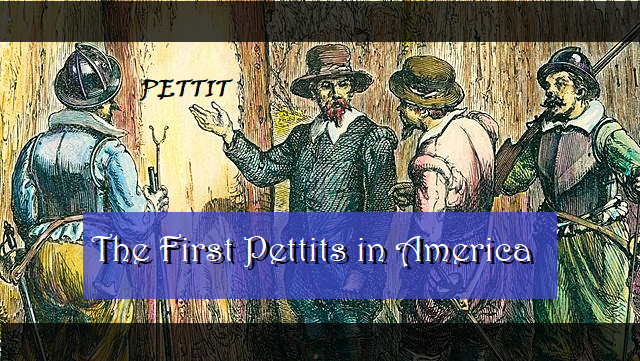 NOTE: There is every reason to believe this man's name was Pettus and not Pettit.  Unfortunately there are a number of genealogists who erroneously mix Thomas Pettus with Thomas Pettit and his wife Katherine who lived in a different area of Virginia.  The information in this article is provided in order to help researchers keep the two men and their lives separated.  To see the information on the other Thomas, Thomas Pettit of Rappahannock, please check out this article: First Pettits in America Series #2 –Thomas Pettit and Katherine of Rapp. Co., Virginia, before 1655.
Col. Thomas Pettit/Pettus of Virginia, ~1641
Thomas Pettus was an immigrant to Virginia who settled near Jamestown around 1640. The Encyclopedia of Virginia biography, Vol I, p111, contains the following biography of Thomas Pettus:
Pettus, Thomas,

First appears in the Virginia records as included in the commission to the Councillors at the beginning of Berkeley's administration, Aug. 9, 1641. He probably came to the colony about that time. He was present at meetings as late as 1651, but in this year seems to have lost his seat on the arrival of the parliamentary commissioners. The house of Burgesses, however, elected him a Councillor in 1652 and reelected him a number of times afterwards. Upon Berkeley's reappointment to the governorship at the time of the restoration, in 1660, the King again commissioned Pettus a Councillor. Colonel Pettus made his home at "Littletown" on the James river, not far below Jamestown. The date of his death is not known.
Some Pettus researchers believe Thomas Pettus first married an Indian woman by the name of Ka-Okee.  There is some debate about this and it would not be prudent to broach that subject in this brief article.  However, it is certain by 1643 Captain Thomas Pettus was married to the widow of Richard Durant –a woman by the name of Elizabeth.  The book Early Virginia Families Along the James River: Their Deep Roots and Tangled Branches, Vol. III by Louise Foley on page 39 abstracted the following information on Pettus.
Captain Thomas Petus (Pettus) one of his Majesty's Councill of State, 886 acs. James City co., Apr. 7, 1643, page 40.  Neere Jockey's Neck, E. & N. upon the Secretary's land, E.N.E. & N.N.E. upon  land of Mr. Secretary Kemp, N.W. upon Mr. George Mallam, S.W. upon the Gleab land Cr., S. upon the Gleab land & S.E. upon a br. of Archers Hope Cr. 250 acs. due by intermarriage with the relicts & Executrix of Richard Durant, Dec'd who had a patent dated 24 Aug. 1635; & 350 acs. by purchase of a patent to Alexander Stoner, & 286 acs. for trans. of 6 pers. 14 acs. still due upon the last person nominated.
The site of his plantation is just a little downriver from the original Jamestown and currently near the Kingsmill Resort.
Thomas Pettus' Littletown plantation was the subject of an archaeological dig featured in The National Geographic Magazine. An expert from "The Virginians", National Geographic, vol. 146, no. 5, pages 588-617 (November 1974) is included below:
Post molds reveal a Colonial Saga, which pertains to Colonel Thomas PETTUS. 

Thomas Pettus was one of those hardy settlers – a land clearer and housebuilder. When, he arrived in 1641, land was available near Jamestown. He built on a tract four miles downriver from the settlement. I came on Pettus's holdings on a hot July afternoon and met half a dozen young people who had cleared the land again – at least, a little of it. They scraped the earth with trowels; one brushed with a whisk broom.

From beneath his yellow hard hat – protection from the sun – archeologist William Kelso of the Virginia Historic Landmarks Commission explained that the team sought 'post molds' – discolored earth that would disclose where posts had stood. Judging from the ashes here, this had been Pettus's smokehouse. "As you can see," Bill said, waving a hand toward rows of holes, "we've found the other buildings of the homestead."

It was not a grand manor. Pettus built a T-shaped house and haphazardly added outbuildings, all of wood. "It was almost a medieval layout," Bill continued.  "In the 17th century, men like Pettus were concerned more with survival than pleasing architecture." He apparently possessed little china or crystal. "Mostly we've found items of local clay, crudely formed and crudely fired."
Later findings and thinking can be found in William M. Kelso's "Rescue Archaeology of the James – Early Virginia Country Life" 3 and Kingsmill Plantations, 1619-1800, Archaeology of Country Life in Colonial Virginia, Studies in Historical Archaeology 12 which is an extensive study of the Kingsmill Plantations and contains many references to Thomas PETTUS' Littletown Plantation.
A picture of a piece of Thomas Pettus' pottery excavated by William Kelso of the Virginia Research Center for Archeology is shown below: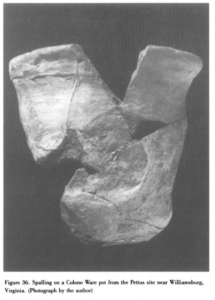 The records available on Thomas Pettus are surprisingly plentiful for this time period.  They include several instances where he was present for business of the Counsel of State, a few land records for the area around Jamestown, and an interesting entry in the inventory of the estate of Thomas Smallcombe in 1646 which says: "By an Indian sold Capt Thomas Pettus 0600".
This is a credit to Smallcombe's estate by Pettus so it would appear Pettus purchased the Indian from Mr. Smallcombe for 600lbs.  For comparison, two barrels of corn was appraised at 300 lbs.  The value of the items, including the Indian servant, were measured in pounds of tobacco.
Thomas Pettus was very involved in the James River settlement but is not found in the records outside of this area.  The Thomas Pettit found in the records of the Rapahannock River settlement is a different man.
Summary
Thomas Pettus arrived in the Virginia colony around 1640 and settled on the Littletown plantation located about 4 miles below Jamestown.  He married Elizabeth, the widow of Richard Durant by 1643.  He served on the Counsel of State at Jamestown.  He was a Captain and a Colonel.  He is thought to have died in 1669 with no known will.
---