Henry Pettit (1689), Boston Sailor with a Surprising Origin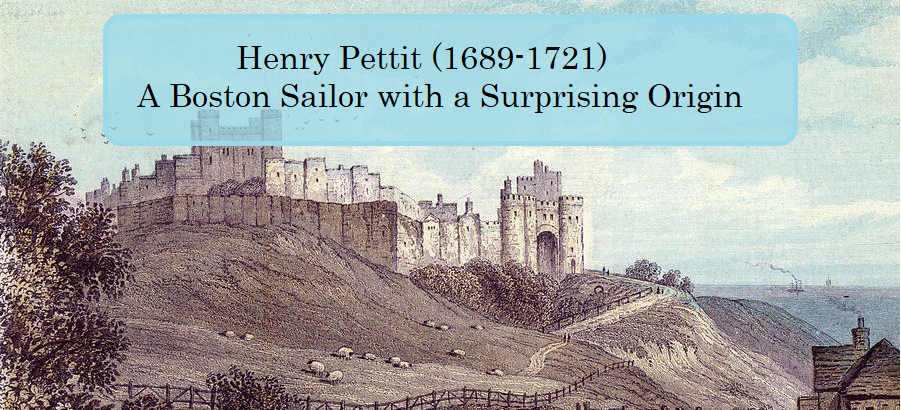 CONTACT FORM HAS BEEN REPAIRED!  PLEASE RESEND YOUR MESSAGES IF YOU NEVER RECEIVED A REPLY!

[Editor's note:  I put off researching this Henry Pettit for almost a year because I realized there would not be much public interest due to a lack of descendants.  His migration date of ~1718 also pushed the limits of what I would consider an early immigrant worthy of focus. Nevertheless, after taking a second look, I felt moved to tell the story of this poor little family and their tragic fate.  It seemed appropriate to show them a little pity by memorializing them here.  As I prepared to wrap this article up, I picked up on a little clue in a reference to Great Britain that needed further research.  Much to my astonishment, this "poor little family" was anything but.  The surprise in this story is one of the most unexpected revelations I have found in some time.  I am very pleased to pay tribute to Henry and Sarah Pettit here. Uncovering their hidden history has been one of those rare genealogical rewards. -B.W. Pettit]
[NOTE: Anyone who lives near Dent-de-Lion or Margate who can share some information on this area, please contact Pettit Research using this form.  I'd love to hear from you!]
---
Henry Pettit and Sarah Gibbs of Boston
Wedding bells rang out on December 28, 1718, as Henry Pettit and Sarah Gibbs were married before the Reverend Sam Miles in Boston, MA.  The Presbyterian marriage was just three days after Christmas Sunday. [1]  Sarah Gibbs was the daughter of John and Mary Gibbs of Boston. [2]  John Gibbs was a painter by trade, [3] specializing in decorative staining and funeral escutcheons.[4] He was no amateur artist. Two of his amazing landscapes from 1714 are in the collection of The Society for the Preservation of New England Antiquities in Boston. They can be seen below:
Henry Pettit was born on July 14, 1689.[5]  Though the name of his father has not yet been discovered, his mother's name was Dorothy Pettit.  His known sisters were Ann, Elizabeth, and Mary Pettit. [6]
Henry Pettit was a mariner originally from Margate, England. After the marriage, Henry and Sarah Pettit prepared a home in Boston.  It was decorated with a "painting and frame" probably given to them by John Gibbs. [7] By mid-1721 they were expecting their first child. In preparation for the new baby, the Pettits acquired a "child's blankets and linen, head clothes, apron and handkerchief" as well as "a child's spoon".[8] All was right with the world.
---
Death in Boston in 1721
In 1720, Boston, MA was a city that boasted around 11,000 residents.  The city had come a long way since the arduous years of its founding.  By 1720 the now historic brick State House had already been constructed.  The house that would belong to Paul Revere had been standing since 1680 and the "Old" North Church from which he would make his midnight ride would be constructed in about 3 years.  The winds of the Revolution had not yet begun to blow. The Bostonians enjoyed and expanded upon the efforts of their industrious forefathers who laid the city's foundation some 90 years earlier.  Health and good fortune are fickle friends, however.  In the year 1721, as the population of this vibrant city exploded, a ship arrived in Boston harbor carrying what would prove to be a very ominous cargo.
In April of 1721, a sailor who left a ship in Boston harbor was immediately quarantined because he showed signs of the dreaded smallpox.  Within days nine other sailors exposed to him became sick. The efforts to isolate and halt this plague were futile and by the end of 1721 over 54% of the population had fallen ill.  Out of 11,000 people, there were 6,006 reported smallpox infections.  Of those, 850 people succumbed to the virus and died.[9] The dead included men, women and children of all ages.  Since he was a self-described mariner, Henry Pettit may have been in close proximity to one of the sailors who carried the disease to the city. Though we can't say with certainty if he was a victim of smallpox, we know that on July 17, 1721, he stated that he was of sound mind… but sick and weak in body. He committed his "precious and immortal soul into the hands of God…" in his last will and testament and died two days later on July 19, 1721 –just 5 days after his 32nd birthday.
In his will, this young man left his "honored mother" Dorothy the sum of ten pounds sterling and a ring of twenty shillings value. To each of his three sisters Ann, Elizabeth and Mary he left a ring of twenty shillings value. He also willed rings to his wife's parents, John and Mary Gibbs, each valued at twenty shillings. For his dear wife Sarah he gave all his remaining estate, both real and personal.
He also made a special provision in his will for his unborn child. He stated:
And whereas my wife is now with child, it is my will that if my said wife shall be delivered of a living child that my said wife shall pay to the said child the sum of two hundred pounds New England money upon such child's arrival to lawful age or marriage.
To see the distribution of such a respectable sum of money and rings in colonial America is a bit unusual but it was the following item that was completely unexpected:
I hereby empower my said wife to sell and dispose of my real estate lying in a place called Dandelion at Margarett near Ramsgate in Great Britain.
---
Henry Pettit, of Dandelion Castle
"Dandelion at Margarett" is actually a reference to Dent-de-Lion at Margate. This was the location of Dent-de-Lion castle. The history of this castle goes back to at least 1248. In 1717 it was located north of the main road from Margate to Canterburry.
This important castle was owned by the Pettit family over a century and a portion of it is still standing today (See it on the map here: https://goo.gl/maps/NXJJY4tToX8jWi926 ). The Rev. C.E. Woodruff, who researched this in 1905, stated:
Valentine Pettit of Minster, who died in 1545, married Joan daughter and heir of William Beverley of Fordwich, and their son Henry is the first Pettit that we can positively identify in connection with Dent-de-lion; hence it is not improbable that this estate came to the Pettits from the Beverleys, who may have acquired it after the dissolution of the Abbey in 1538. The Pettits owned Dent-de-lion for more than one hundred years, and continued to reside here until the death of Captain Henry Pettit in 1661-2.[10]
(A complete copy of the lineage and history of the Pettits of Dandelion Castle by C.E. Woodruff can be found here: Dent-de-Lion Gatehouse, Margate, with a Pedigree of the Family of Pettit 1905.)
The Captain Henry Pettit mentioned above who died in 1661-1662 is obviously not Henry Pettit, the mariner. Though the castle may have passed from the Pettit family, it would appear some of the surrounding lands did not. Henry Pettit, the mariner was an heir to the Pettit family lands in Dandelion. Pettit family researchers and genealogists have traded charts on this particular Pettit family for many years. There is a fair amount of documentation showing their lineage and ownership of the castle. Woodruff's Pettit genealogy chart from 1905 has been widely distributed. It shows what is thought to be a complete male genealogy from Pettit de Blois to the mid-1700s. There are numerous Henry Pettits but a review of this record shows no Henry Pettit who married Sarah Gibbs and no Dorothy Pettit who could have been his mother. His ownership of an estate in Dandelion all but ensures he is of this lineage but he does not exist on any pedigrees. As far as the current genealogy is concerned, he is a long-lost heir. Further research is needed to place him in his rightful spot on this family tree.
Henry Pettit's will was witnessed by David Robertson, John Dorrell and Joseph Marion. Following his death, his wife Sarah kept a "mourning lute"[11] and entered her husband's will for probate with Judge Samuel Sewall in Boston. (This is the same Samuel Sewall involved in the Salem witch trials.) She began her role as administrator on August 1, 1721.
However, Sarah Pettit would accompany her husband Henry to the grave just a short time later. She died on October 15, 1721. Her estate was then assigned to her father, John Gibbs, by the court for administration. It was inventoried and appraised by Obadiah Proctor, Willliam Price and Willam Randel on April 24, 1722. It is not known if this grieving widow died during childbirth or if she passed away shortly thereafter. Most likely the little child suffered the same fate as his parents as no further mention of him can be found in the record. If his little blanket, bonnet and spoon were ever used, we do not know. By the end of 1721, this young Pettit family had been completely extinguished from Boston and all but forgotten to history.
---
Summary and Conclusion
Henry Pettit was laid to rest in Boston's third oldest cemetery, Granary Burying Ground, in Row 2, Lot No. B-85. This cemetery is on the "Freedom Trail". He shares this ground with Paul Revere, Samuel Adams, John Hancock, Robert Treat Pain, and the five victims of the Boston Massacre. (If anyone would like to visit his grave and capture a picture for this article you can find the exact location of his plot on THIS MAP and directions to the cemetery HERE). (UPDATED: 4/12/22 Thank you  Adrian Thierry for photographing the grave!  See below.)
Sarah died on October 15, 1721. Her burial location is not known. Her father, John Gibbs, died on January 22, 1724-25.
One wonders what may have become of the child had he survived the loss of both his parents. He would have been the heir to the Pettit estate once he reached adulthood. It is likely this would have been noted in the probate records by his grandfather John Gibbs and the record states nothing of the sort. Still, nagging questions persist. What if the child survived?  What if he did not stay in Boston with the Gibbs family? Could he have gone to live with the Pettit family in England? Henry Pettit's mother and three sisters were living. Whether they were living in America or in England at the time it is not stated but it is very possible they remained in Margate. In those days it would not be uncommon for a surviving orphan to be sent to wealthier family members in more established areas to be raised. If that were the case, Dorothy Pettit and her three daughters could have welcomed the child and provided care for him.
Could the Dandelion Pettit line of Henry Pettit, mariner, have continued? At present, we cannot say for sure. The disbursement of the British Dandelion Estate would not have been recorded in Boston outside of the mention in Henry's will. Further research overseas will be needed to shed some light on this. A search of the records in Kent, England would tell us what became of the Pettit lands and what descendants, if any, inherited them. Henry and Sarah Pettit's young lives were tragically ended before they would be able to raise a family together. It would be a miracle if their progeny survived but it is within the realm of possibility. Perhaps we will one day know for sure.
---
Footnotes: