Nathaniel H Pettit b. 1813 and Nathan Pettit b. 1792. Which one is the son of Joshua Pettit Jr. and Judith Pettit?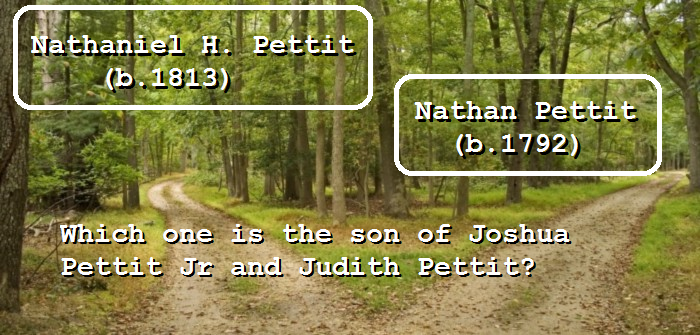 Is there a Joshua Pettit in your family?  How about a Henry? What about a Nathan?  Sometimes a given name becomes a family heirloom, passed down from parent to child to grandchild for many generations.  Sometimes the origin may be forgotten but still the name remains. In the prior age of large immediate families and even larger numbers of cousins it should be no surprise to find contemporaries with identical names living in the same area.  Often times, especially in the south, nicknames would step in to make a distinction where two otherwise identical names stood.
In the course of study it has been noted that two Nathan Pettits are consistently interchanged by researchers when in all actuality we are dealing with very different men.  In this writing we will define and separate both Nathaniel H. Pettit and his doppelganger-in-name Nathan Pettit.  I hope to show that they are not one in the same and hope to help their descendants latch on to their correct ancestor.   Many genealogist who descend from Nathaniel H. Pettit innocently but erroneously claim Joshua Pettit Jr. and his wife Judith Poole as their ancestor.  If you are a descendant of Nathaniel H. Pettit of South Carolina relax but please read carefully.  You're still connected to the SC Pettits, but probably not how you think!
No, Not Those Nathan Pettits
There are quite a bit more than two Nathan/Nathaniel Pettits who lived at the same time in the same area but only two who are magnificently confused on paper.  Some of the other Nathans we will not be examining include the older Nathan found in the Spartanburg Co., SC area. He was the son of old Joshua Sr. and was probably born in 1775[1].  He moved west to Illinois, Missouri and back to Illinois. He died in 1856[2]. He had a son, Nathan Jr, who was born in 1812 in South Carolina who moved with his father and died two years prior to his dad in 1854 while in Handcock Co., IL[3].  After leaving SC he never made his home in SC again.
There were also plenty of other Nathan/Nathaniels born after the 1800's but these are easy to exclude as well and a do not need mentioned here.
The two men we need to look at are Nathan Pettit (1792) and Nathaniel H. Pettit (1813). As we compare these two principals, there are some facts to keep in the forefront that help quickly separate them. It will be easy if you remember this throughout this paper:
Nathan Pettit son of Joshua Jr. was born in 1792.
Another Nathaniel Pettit of seemingly mysterious origins was born in 1813.
First we will look at Nathan Pettit (b. 1792).
Nathan Pettit (b.1792), son of Joshua Pettit Jr. and Judith Poole of Spartanburg County, SC.
This 1792 Nathan Pettit is the son of Joshua Pettit Jr. and Judith Poole and was born in South Carolina in 1792/3.
[NOTE: There are some early records that exist that could also be attributed to either Nathan (b.1775) son of Joshua Sr or this Nathan (b.1792) son of Joshua Jr.  Because the distinction is not as clear as the other information at our disposal, this will not be discussed until the later and offered with some helpful speculation. Aside from this, the material will be presented in a chronological order below.]
1826 Will of Joshua Pettit Jr.
Outside of the above mentioned records, 1792 Nathan Pettit, the son of Joshua Jr. is first mentioned in the 1826 will of Joshua Pettit Jr.[4] when his father says:
I give to my Son Nathan The tract of land Whereon he now lives also my black Smith tools…
Further evidence of his property ownership is seen here:
Running a Straight line from thence to a Chesnut corner Down by Nathan Pettits fence…
This land was on the north side of the Pacolet River in the area opposite the river from William Poole's Spring.
It can be deduced from this that the Nathan mentioned in this will who was the son of Joshua Jr., was living on his own land in 1826 and thus would have had to have been at least 16 years of age or older based upon the laws at the time.  He would therefore not likely have been born after 1810.  (If he would have been born in 1813 then he would have been 13 years old at the time of the will!)
1830 Spartanburg Co., SC Census
After making out his will, his father Joshua Jr. died in 1828 and was buried in the Pettit cemetery near Cowpens, SC[5]. Two years later, in 1830, Judith, the widow of Joshua Jr. is found in the census of Spartanburg County surrounded by her children who are heads of their households.  Judith is shown to have been born between 1760 and 1770 which is consistent.  It appears her sons Henry, William P., Joshua III, and Nathan are all nearby.  Her son Nathan shows to have been born between 1790 and 1800 and had several children.  Of particular importance is the fact that Nathan had one male child that was born between 1810 and 1815.  Clearly this Nathan Pettit, living next to the widow of Joshua Pettit Jr., could not have been born in 1813.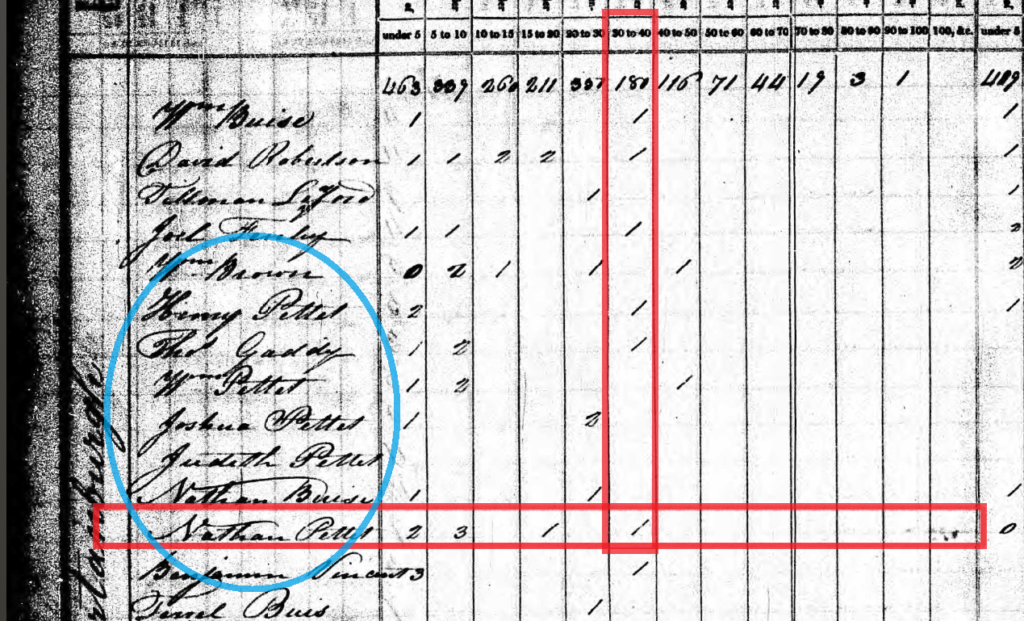 No other Nathan Pettit can be found in the 1830 South Carolina census.  The 1775 Nathan Pettit who was the son of Joshua Sr and Rachel Pettit had already made the move to Vermilion Co., Illinois as indicated by that census and the other Nathaniel H. Pettit (1813) was just coming into adulthood at the age of 17, as we will soon see.
Church Planting in Alabama
Sometime after the 1830 census 1792 Nathan pulled up stakes and moved to Benton Co., AL. How can we prove this AL Nathan is the 1792 Nathan?
Baptist church records where Nathan attended in AL reveal he was one of the first members and would be a long time deacon of Shiloh Baptist Church in Benton Co, AL, which was constituted in 1836. In June of 1838 he was officially received as a member at Shiloh Baptist Church in AL.  This record states: "Rcvd by letter Nathan Pettit from Bethesda church South carolina Spartanburgh District he is a Deacon"[6]
The records of Shiloh Baptist Church in AL place 1792 Alabama Nathan's origin not only in Spartanburg County, SC, but at a very specific community in Spartanburg County.
It is also very likely that this 1792 Nathan was not only an early member of Shiloh Baptist Church in Benton Co., AL, but he was also one of the first members and deacons of his home church in Spartanburg, SC.  Bethesda Church records attest to the fact that a Nathan Pettit was ordained as a deacon when the church was constituted sometime around 1821.[7]
Bethesda Baptist Church in Spartanburg County is at 799 Bethesda Rd today.  This is next to the old home of William Poole, the father-in-law of Joshua Pettit Jr and grandfather of 1792 Nathan.  It is also near current day Poole Springs Rd which is the road that leads to the "Healing Springs" mentioned on the land warrant that was issued to Henry Pettit Sr (1763). (Henry Sr. sold this land to William Poole.)  It is also just across the Pacolet River from the land of Joshua Pettit Jr. which he left to his sons in his will including 1792 Nathan.  The records strongly indicate 1792 Nathan was involved in both church plants.  The move to Alabama was complete by 1840 and the evidences suggests he didn't come alone.
1840, 1850, 1860 Alabama Census
Who were 1792 Nathan's census neighbors in AL?
Census data shows that a John P, and a Joshua Pettit were enumerated near Nathan in 1840.  By 1850 in Benton Co, AL, we find these heads of household near one another:
Nathan Pettit born 1792 SC.
Joshua Pettit born 1793 SC.
John P. Pettit born 1796 SC.
Henry Pettit born 1799 SC.
Notice that besides Nathan, all these Pettit neighbors were born in SC as well according to the censuses.  Most of their older children were also born in SC. The first of their children out of the group to be born in AL was Jane in 1836 (d/o of Joshua 1793 and Mary).  This is consistent with the dates for the migration of Nathan for the church organizing dates mentioned above. Also in 1850 two houses down from 1792 Nathan we find Elizabeth Walker who the census says was born 1790 in SC. Why is she significant?
In the 1826 will of Joshua Jr. which mentioned his son Nathan he also mentions his daughter "Elizabeth Walker".  In that will he lists his sons, John, Joshua, Nathan, Henry and William.
So there in Benton, Co, AL we have people by the exact same names, John, Joshua, Nathan, Henry, and Elizabeth Walker, all living in close proximity to each other for many years.  Furthermore, we see the records of Shiloh Baptist Church in Alabama point again to a Spartanburg County, SC origin for some of these siblings as well: Joshua from Goucher Baptist Church, Henry from Bethesda Baptist Church, both from Spartanburg Co., SC. (It should also be noted that William P. Pettit, the oldest son who stayed behind in SC on the land he inherited, is buried in the Pettit cemetery near Joshua Jr. and Judith Pettit[8].)
In summary, there is ample evidence to conclude that around 1836 the four Spartanburg brothers John P., Joshua III, Nathan, and Henry as well as their older sister Elizabeth (Pettit) Walker moved west to Alabama to take advantage of new lands that were being opened up and also to help in church planting. They settled in Benton Co, AL.  They were without a doubt the children of Joshua Pettit Jr. and Judith Poole.
If this is true, then the 1813 Nathan who remained in Spartanburg County is not the Nathan mentioned in the will of Joshua Jr. 1773 and is therefore not likely his son. So who is he and where did he come from?
Nathaniel H. Pettit the (probable) Son of John Pettit
Proof positive of two different Nathan Pettits comes from the fine details of the 1860 Federal Census.  On June 18, 1860, the census taker recorded 1792 Nathan in Calhoun County, Alabama with his wife Mary and daughter Lucinda.  He shows to have been born in 1792.  On July 5, 1860, the census taker making his rounds in Spartanburg County, SC captured the other Nathan Pettit with his wife Elizabeth and children.  He shows to have been born in 1813.
Two state 1860 censuses taken about a month apart show two different Nathans with two different wives and children. In SC, one was born in 1813 and in AL, one was born in 1792.
Land records tell us 1813 Nathan owned a farm on the Pacolet which formerly belonged to Mary Wyatt[9] and also other land not far from his son Henry J. Pettit on Peters Creek of the Pacolet River. The 1813 Nathan Pettit settled into this community and may have never left South Carolina (although he is strangely absent from his family's listing on the 1850 census.)  It is this 1813 Nathan who is also known as Nathaniel H. Pettit.
Nathaniel H. Pettit is not the son of Joshua Pettit and Judith Pettit.
This Nathaniel H. Pettit most likely belongs to the long forgotten John Pettit, son of Joshua Pettit Sr.  His siblings most likely include, Elijah, Solomon, Benjamin, Daniel, Ruth, another female and possibly a William.
More information on 1813 Nathaniel H Pettit will be shared in future posts but for now there should be no doubting that he and 1792 Nathan are both Pettit grandchildren of Revolutionary War soldier Joshua Pettit Sr.  They are also not the same person.  One is the son of Joshua Jr and one is the son of John. If you show a Nathan Pettit or a Nathaniel H. Pettit in your tree which one is really your ancestor? That's a question I hope you're asking yourself right now.
If you need help making this determination feel free to contact me.  If you found this information helpful please leave a comment and thanks for reading!