The Family Bible of Adolphus Ellison and his wife Missourie Pettit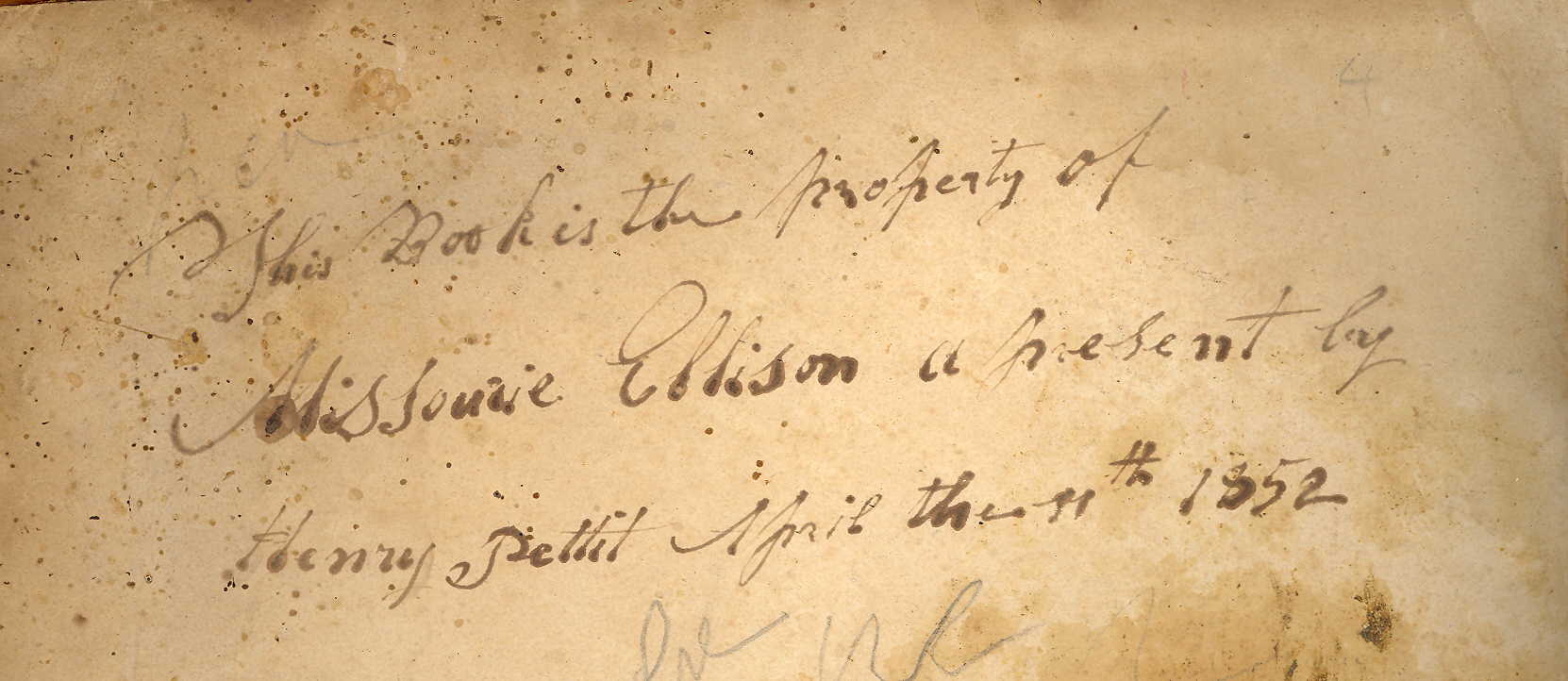 The Family Bible of Adolphus Ellison and his wife Missourie Pettit
Brandon W. Pettit
This Bible record was received from Jeff D. Hendricks of Independence, MO. He is the great great grandson of Missourie Pettit. I originally corresponded with Mr. Hendricks in 1998 via email. At the time he had reviewed the Bible but did not own it.  I contacted him again in August of 2018 and he informed me that he was now in possession of the Bible which belonged to his great great grandmother Missourie (Pettit) Ellison.  He also provided me high resolution scans of the Bible.  He shared the following story in response to some questions I had:
This Bible was given to Missourie when she was a young girl by her father Henry Jr. It is intact no missing pages… The story that was handed down through the family is that after the war, carpet baggers came in and burned the family's farm, which left Missourie and Adolphus heart broken and they died, the children loaded a wagon and moved to Bowling Green, KY. That Mary Ann Ellison took care of the children as she was the oldest child. I recently found some papers on Ancestry that says Adolphus moved there with the children, and his brother came after him to get some money that he owed people and made him sell all of his belongings to cover the debt, but no mention of Missourie. Just goes to show, family stories handed down over generations can be totally wrong!! I'll see what I can find to send to support that.
Also, he mentions this elsewhere and it bears repeating:
This is the story handed down from my great grandmother who I knew, Sarah Verna Ellison, born 1886. Her father was James Fletcher Ellison, the baby of the family. After the Civil War ended, the carpet baggers burned the family farm down. Mary Ann, the oldest, got the children all loaded in a covered wagon and went to Bowling Green, Kentucky. I do not know yet if there was family there, but that is where they went. As for Adolphus and Missourie, the story goes they just gave up on life, their children gone as well as their home, they died shortly after.
My purpose for contacting Mr. Hendricks this second time was to determine which of the Pettit Bibles he has seen and ascertain whether it was the Bible that belonged to old Joshua or his son Henry Sr.  I inquired about the printing date and was told "I am sure this Bible was made in the 1800's". As can be seen in the attached images below, this Bible appears to be a later book than the one owned by Joshua.  Nonetheless it is a valuable heirloom and I am glad to see it in the hands of someone who cares about family history. Mr. Hendricks' generosity in sharing this information with me is commendable and very much appreciated.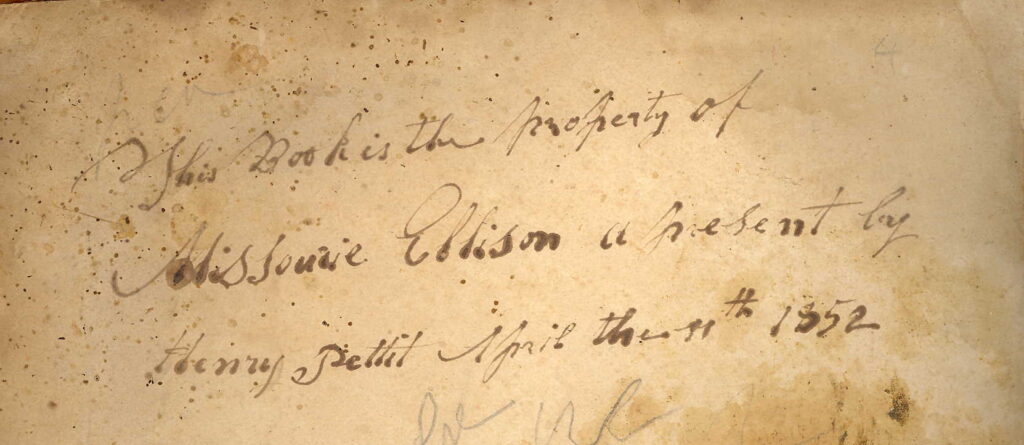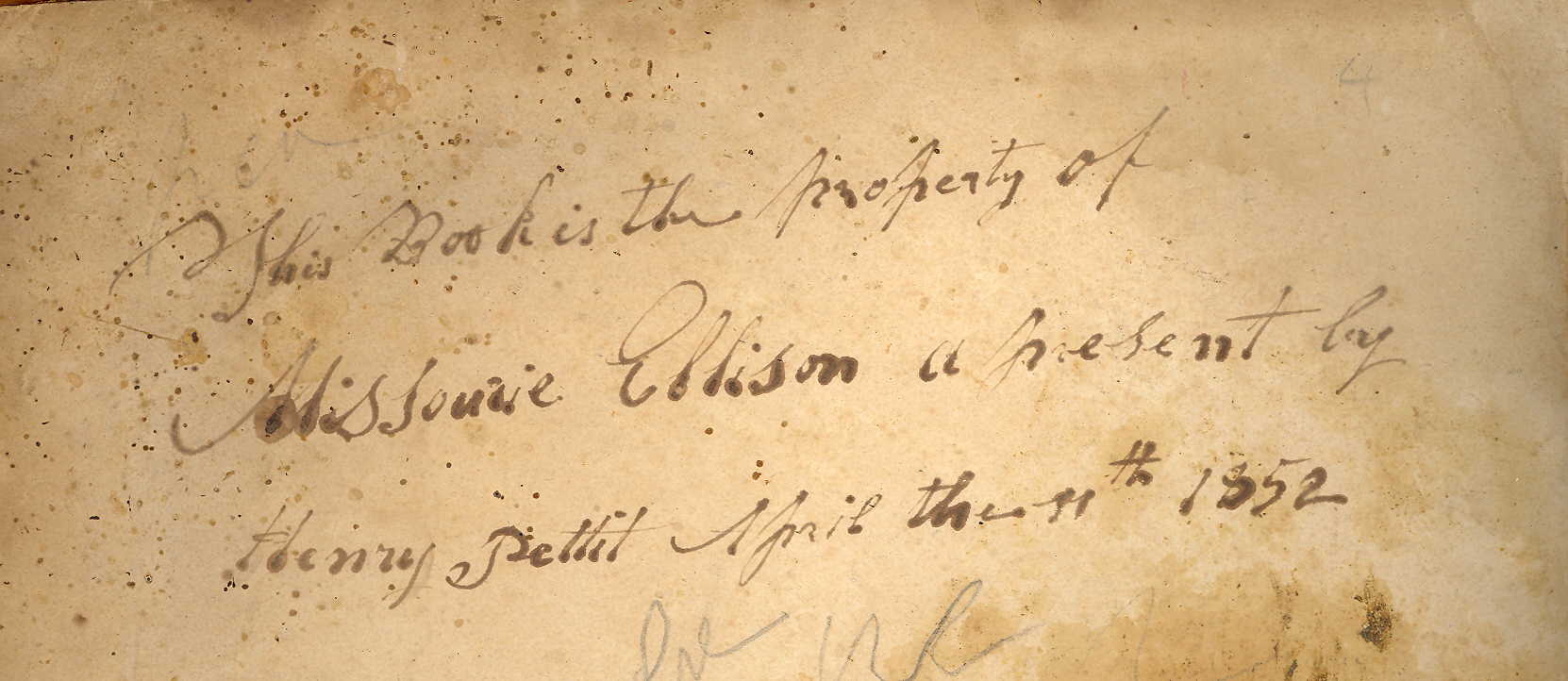 (If you would like a high resolution copy of all 4 pages of the Adolphus Ellison and Missourie Pettit Bible record please contact me.)
[Research by Brandon W. Pettit of Mounds, OK. Published on August 14, 2018.]
---
Leave a Comment!
We have an online forum for comments and questions.  Follow this link to comment about this:
COMMENT HERE:  The Family Bible of Adolphus Ellison and his wife Missourie Pettit
---