Monroe or No? Rachel Pettit -wife of Joshua Pettit (b. 1734)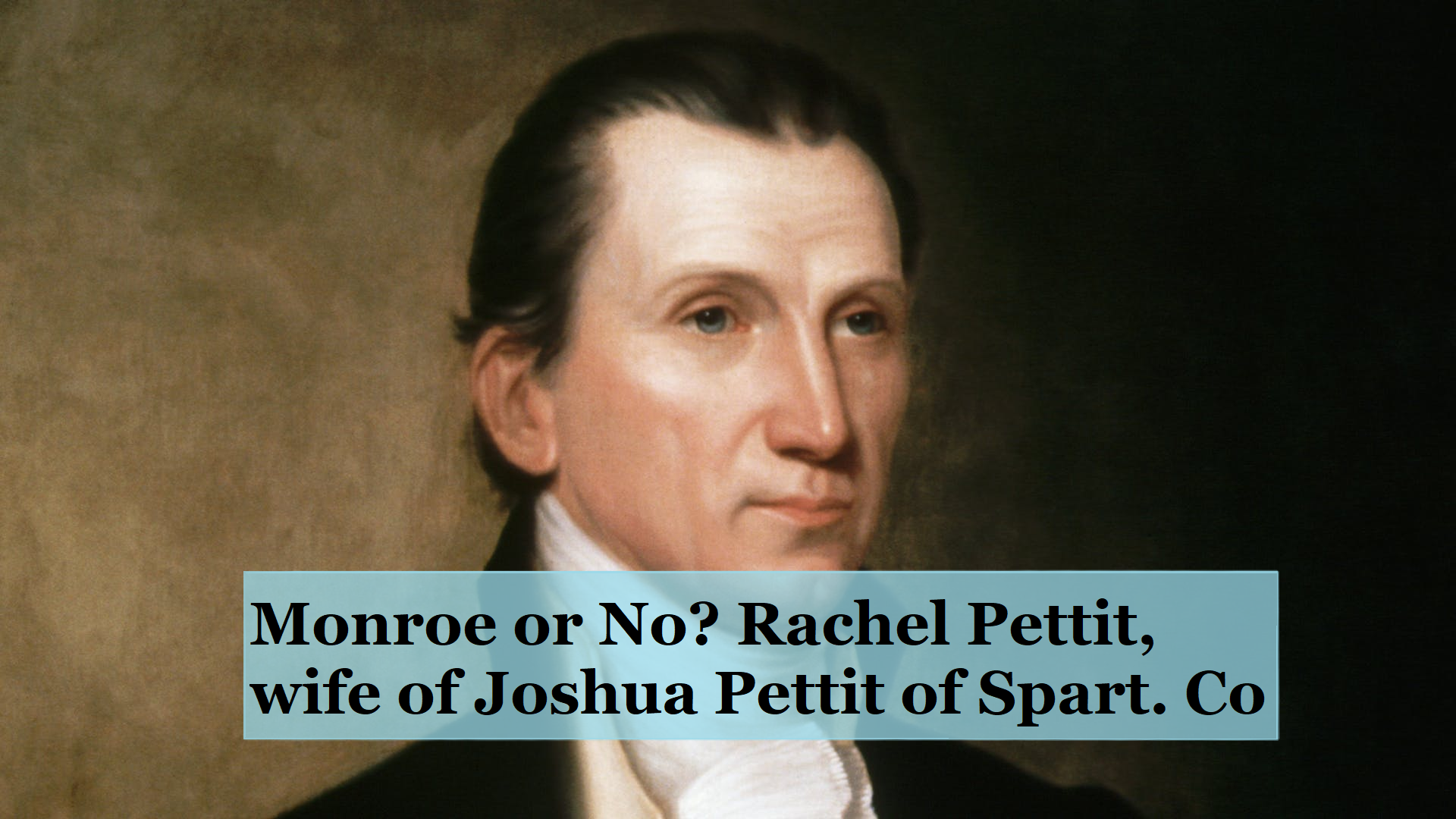 Joshua Pettit (b.1734) of Spartanburg County, SC had a wife named Rachel.  This we know for sure from the old family Bible record.  Beyond this fact, researchers are divided on their opinions of what her maiden name was.  Some say Monroe. Others say Valentine.  In this article we will look at the possible Monroe connection and trace the surprising origin of that legend.
The Supposed Source on Ancestry.com
There is only one source document that purportedly establishes Rachel's maiden name as Monroe.  Outside of this there is no other evidence beyond the "tradition", which we will soon examine. This source is shared online by anyone who cares to list their sources and literally every sourced tree on Ancestry.com lists this as the only source document.  It is Ancestry.com's "U.S. and International Marriage Records, 1560-1900."  (Seen below.)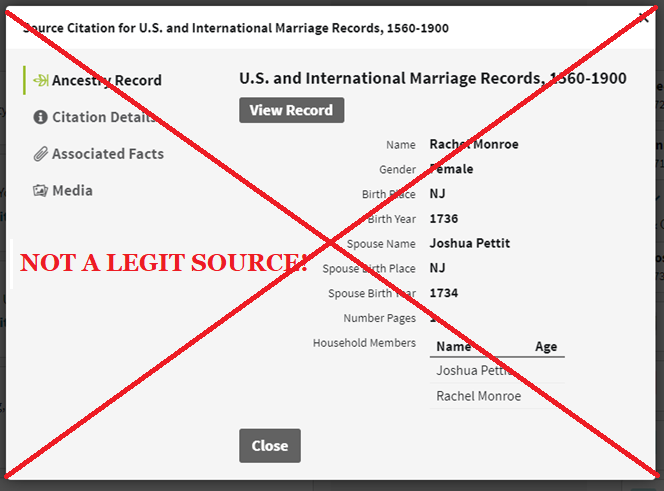 This is not a legitimate source! Here is why…
"U.S. and International Marriage Records 1560-1900" is far from a primary document. However a deeper look into the "Citation Details" tab does give us the primary document used to generate the widely disseminated claim.  That source is:
"Yates Publishing. U.S. and International Marriage Records, 1560-1900 [database on-line]. Provo, UT, USA: Ancestry.com Operations Inc, 2004."
Yates' records are  not available on Ancestry.  Fortunately Ancestry.com gives us a way to further validate the information though. At the bottom of the entry for Joshua Pettit and Rachel Monroe in the database online are source numbers which can be used to determine the original source used by Yates Publishing to make this connection in the ancestry.com database. There are only 3 and they are as follows.
Source number: 249.000; Source type: Electronic Database; Number of Pages: 1; Submitter Code: RGI
Source number: 3983.023; Source type: Family group sheet, FGSE, listed as parents; Number of Pages: 1
Source number: 17106.000; Source type: Electronic Database; Number of Pages: 1; Submitter Code: WAY
With this information in hand the primary source for the Rachel Monroe to Joshua Pettit connection was easily obtained by writing Mr. Bill Yates of Yates Publishing and obtaining the sources listed.  A copy of the pertinent document received by Yates Publishing is seen below. This is the only record in the Yates material referencing Rachel Monroe: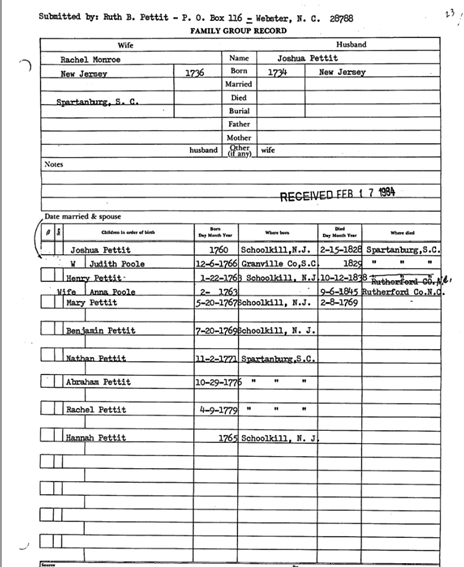 That doesn't quite live up to the hype does it? What you are seeing is a run of the mill family group sheet from Ruth B. Pettit in 1984 with no other source listed.  (Have I said "no source" enough yet?) In case you were wondering, no, there is not anything in the information from Yates Publishing to backup the information on the sheet.  That's not what Yates Publishing does.  Yates collects and sells FGS and expects researchers to be responsible with the info.  Ancestry.com kind of failed at that.
That's correct, Ancestry's "U.S. and International Marriage records" was compiled from family group sheets from the 1970s and 1980s.  Anyone that remembers the old FGS days knows that some of these might be accurate, and some of them may be dead wrong.  It's just a piece of paper someone filled out.  Sometimes, however, the family group sheet will contain a source in the footnotes. This one doesn't.
Incidentally, I am told by people that knew Mrs. Ruth B. Pettit that she was an excellent researcher and other records that are linked to her seem to support this.  One wonders how she would feel about her unsourced sheet being the basis for the Rachel Monroe claims used by literally hundreds of people today.
The takeaway from this is that out of all the trees on the Ancestry.com juggernaut, there is only one measly source listed.  That source is a family group sheet with no supporting documentation.  That is no source at all.  We must then turn to the family legend.
The Family Tradition Source
The next issue, and by far the more interesting one, is the question of the origin of the family legend.  "Legend" is a word that has a connotation of age but it may be that this particular story is yet a babe –relatively speaking.  The evidence at hand indicates the story sprang forth from a series of events that took place in 1923.
In the 1960's Mrs. W. L. Pettit of Odessa, TX, sent a letter to Mrs. C. J. Swain who had inquired about the Pettit genealogy. Mrs. Pettit told Mrs. Swain that an article which appeared in Gilmer Co., GA, in 1923 said that "Judge Henry Pettit's grandmother was a Monroe and a cousin of President James Monroe, author of the Monroe Doctrine."   A snippet from the letter, given to me by my friend, the late George Pettett of Dallas, is seen below: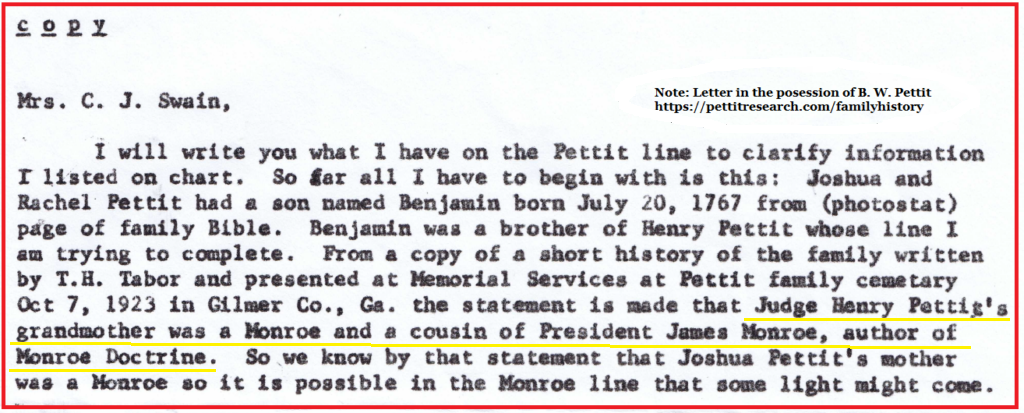 (Though not relevant to this matter, please note the birth year given for Benjamin Pettit above is incorrect.) The "Judge Henry Pettit" mentioned in the 1960s letter is Henry Pettit Jr. who was born in 1790 in Spartanburg Co., SC.  His parents were Henry Pettit Sr (b. 1763) and Anna Poole Pettit (b. 1763).  Judge Henry Jr. was the pioneer who came to Gilmer Co, GA from Rutherford Co., NC.  One of Judge Henry Pettit's grandmothers would have indeed been Rachel, wife of Joshua Pettit (b.1734).
Mrs. C. J. Swain was a very active researcher in the 1960's and most likely took this Monroe information and spread it like wildfire among her contacts.   This 1960's letter hearkens to an earlier reference to the Monroe connection from a reunion in 1923.  This was a trail that absolutely needed following but everyone involved, including Mrs. Swain, had all passed on.  Thankfully, there were some records out amongst our cousins eagerly waiting to have the dust blown off them.
The 1923 Memorial Service at the Pettit Cemetery  in Gilmer Co, GA.
On October 7, 1923, in Gilmer Co., GA, just 7.5 miles from Ellijay at the old Pettit farm, the descendants of Judge Henry Pettit gathered for a memorial service.  Two grandsons, William Henry Pettit and Elijah Alexander Pettit (my 2nd great grandfather) were there for the service.  They left their homes in Harrison, AR, to make the trip and when they returned they found a local newspaper had written a story about it.  A transcription of this paper was given to me by genealogist and dear friend Viola H. Jones of Knoxville.  She said her copy contained no date or newspaper name.  Halfway through the article this important paragraph appears:
Judge Henry Pettit who moved from South Carolina to Georgia was the grandfather of W. H. and Alex Pettit of this county.  He was one of the pioneers of Gilmer county and came there while the Cherokee Indians still inhabited the land and purchased a homestead which still remains in the hands of his descendants.  He was county judge for many years and helped to build the present brick court house sixty-five years ago.  Judge Pettit's grandmother was a cousin of President James Monroe.
The newspaper was kind enough to list the source for this claim.  They used a paper that was given to them that was published in Glimer Co., GA:
…from a paper that has fallen into our hands, that is published in his [William Henry Pettit's] native county of Gilmer, in Georgia…
We're hot on the trail of the legend. Let's summarize the clues real quick:
The undated Arkansas newspaper article references a Pettit Family Memorial Service that occurred in Gilmer Co., GA on October 7, year unknown.
The 1960's letter to Mrs. C. J. Swain references a Pettit Family Memorial Service that occurred in Gilmer Co., GA on October 7, 1923.
The 1960's letter also references an  article that appeared in Gilmer Co., by T. H Tabor about this memorial service.
So to follow the legend back further we are hunting for a paper about a Pettit Family Memorial Service by T.H. Tabor from October  7, 1923, in Gilmer Co., GA, which makes reference to the Monroes.
And indeed we have such an October 7, 1923, paper by by T. H. Tabor entitled "Memorial Services at Pettit Family Cemetery".  In 1923, William Henry Pettit returned to Harrison with this paper in his hand and his descendants still have it to this day.  A copy of this was shared with me by researcher David Sigmon, the son of Ruth Pettit Sigmon. Ruth was a favorite contact of mine and the granddaughter of William Henry Pettit mentioned above.  The pertinent part of the T. H, Tabor document received from these Pettit cousins is shown below: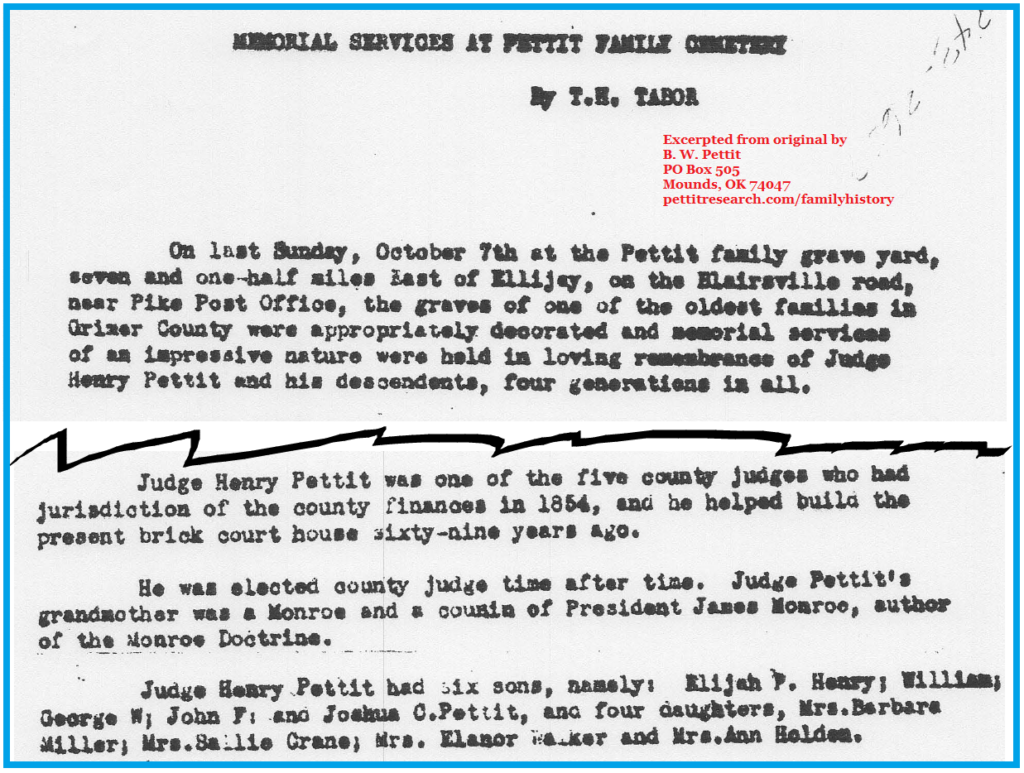 Who was T. H. Tabor and what was his source?
Thus far we have traced the origin of the Monroe maiden name story back to 1923. T. H. Tabor was the man who compiled and printed the Pettit history for the memorial.  So who was he?
Thomas Harley Tabor was a local historian and newspaper publisher in Gilmer Co.  Aside from the newspaper, Tabor published at least one small book,  Interesting historical facts about Gilmer County.  It would seem he was the go-to guy for local history in his day. We have shown that his article on the Pettit Memorial Service was picked up and summarized by another paper in Arkansas.  It was also the source mentioned in the Mrs. C. J. Swain letter in the 1960s.
In the 1965 edition of The Annals of Upper Georgia Centered in Gilmer County by George Gordon Ward the section on "Pettit" on Page 283 states:
Much of the data on this family was supplied by T. H. Tabor, who stated that the grandfather of Henry Pettit I was a French merchant who came to America in 1760. Pettit, a French word, means "little."
This book contains several stories by a Henry Pettit but it's not Judge Henry Pettit.  The stories are by his grandson Henry, the son of William Decatur Pettit. (He was often called "Cherry Log Henry" to distinguish him from the numerous other Henry Pettits in the area.)  He was a source for the book and it is very possible this Cherry Log Henry Pettit supplied some of the information that Tabor relied on for his paper.
Though not connected to the family, Tabor had an interest in Pettit genealogy and was quite a capable interviewer and storyteller.  As is often the case, when relaying information gathered by interviewing others, he may have inadvertently mixed up a few things.  For example: The above Tabor quote says the Pettits came to America in 1760.  However, in the 1923 paper from the Pettit Family Memorial Service, Tabor says the Pettits came to America in 1640.  He either changed his mind, got bad information, got some stories crossed or someone else made a mistake.  Is it possible the same type of mistake may have occurred with the Monroe family story reported by Tabor?  Is it possible there is a Monroe connection but the exact connection was erroneously reported?
The Monroe-Pettit Connection
I have been unable to trace the Monroe legend back any further than Tabor's paper.  No other evidence has been found to prove or even tease a connection between Rachel and the Monroe family.  My suspicion is this actually began with Tabor.  However, this does not mean there is no connection between the Pettit family and the Monroe family.  In fact there most certainly is and the connection is even in the family of Judge Henry Pettit Jr.  Here is how it works out:
Judge Henry Pettit Jr. married Anna Mooney in Rutherford Co., NC.
His brother John married her sister Elanor Mooney there as well.
The parents of Anna and Elanor Mooney are David and Mary Mooney.
Actual NC marriage records show that David Mooney married Mary MONROE on August 20, 1787, in Rutherford Co.  (Bondsmen were Robert Smith and William MONROE. Witness was Isaac Whiteside.)
Remember the William Henry Pettit, grandson of Judge Henry mentioned above who visited Ellijay, GA from Harrison, AR for the 1923 Memorial Service and who carried Tabor's paper with him back to Arkansas?  He confirms this.  In fact, he placed the Monroe connection squarely on the Mooney side of the family. In doing so he directly contradicted Tabor's paper, even though he was aware of what claims Tabor had made.  He must have been pretty confident in his information to do so.  Of course, William Henry Pettit would have have certainly known the truth as he was closer to the people themselves, and also was involved in his own genealogy work.  In 1936 he wrote a letter to his cousin Stephen Fletcher Pettit in Georgia and had this to say about the Pettit/Monroe connection:
Yes, the Pettits were keenly aware of this Monroe connection through the Mooney line. John and Elanor Pettit even named a daughter "Mary Monroe".
Was the Pettit brothers' mother-in-law Mary Mooney a cousin to the President?  That is a different subject for a different day but there is little doubt she was a Monroe.
Conclusion
Rachel's supposed Monroe connection cannot be definitively ruled out without further research.  However, it certainly rests on shaky ground with there being absolutely no supporting documentation after many decades of research by many capable genealogists.  While it may be possible Joshua married in NJ, lost his first wife Hannah, moved to VA and married Rachel who would have been a cousin to the president, this is insanely wild speculation at best.  Realistically this legend looks to be based on an honest mistake made by T. H. Tabor in 1923.  The grandchildren of Judge Henry knew this was a mistake and also knew where their Monroe connection really was; in the Mooney line.
It is reasonable to say then, that there truly was a Henry Pettit in Gilmer Co., GA, who had a MONROE grandmother.  It wasn't Judge Henry Pettit Jr. though.  It was his grandsons "Cherry Log" Henry and William Henry.
Researchers for at least 60 years have been trying to find how Rachel Pettit is related to James Monroe and haven't been able to make any headway.  The obvious reason for this is there may not be anything there to connect.  In light of this information it may be time to explore the Valentine connection for Rachel and focus the Monroe search on the wives of Henry Jr. and his brother John where it really belongs.  It has almost been a century since this mistake was first promulgated.  It's high time we set it aside and try something different.
---
This research is still ongoing.  I would greatly appreciate any information or insight that would help develop the facts. Please leave a comment below or contact me directly.